Inter tough on transfer talk
Inter Milan insist they can fend off English interest in Wesley Sneijder and Samuel Eto'o.
Last Updated: 30/07/11 11:34am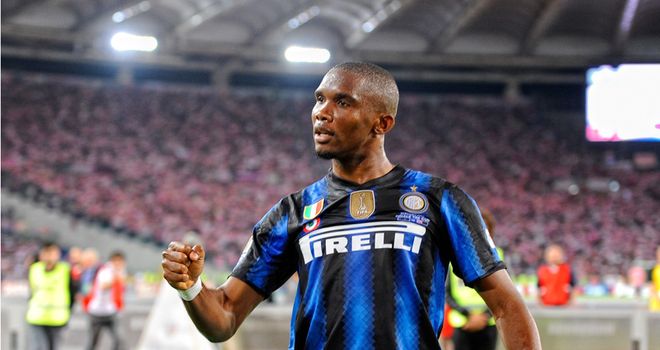 Inter Milan coach Gian Piero Gasperini believes his club are big enough to ward off any vultures circling his top players, as rumours continue to link Manchester United and Manchester City with Wesley Sneijder and Samuel Eto'o respectively.
Although United's chief executive David Gill said on Friday that any move for Sneijder is 'dead' he did concede that things could change between now and when the transfer window closes on August 31.
Rumours are also circulating that United's neighbours City are considering a move for Samuel Eto'o that would see wantaway Carlos Tevez move in the opposite direction to Inter.
This could suit both parties as Inter would not have to find a transfer fee in the region of the full £50million City want for Tevez, while Roberto Mancini would have a ready made replacement for the Argentine.
The fact Manchester City and Inter are currently in Dublin for a pre-season tournament has fuelled conjecture further, as talk of a deal being struck in the Irish capital simmers.
Gasperini is refusing to get carried away by the inevitable speculation any transfer window harvests, as he insists Inter are far from being a selling club as they look to reclaim the Serie A title this season.
"50 days ago we were talking about Wesley Sneijder now we talking about Eto'o," Gasperini told the assembled press in Dublin.
"Again the reality is Wesley is here and Samuel is here and we are here to play a tournament. We are here to finalise our preparations for the new season.
"Inter are a big club and at the moment Eto'o and Sneijder belong to us. That means it's a big enough club for them to be here and a big enough club to keep them.
"The choice will be up to the president but at the moment they are with us and that means they can stay."
Talk of Sneijder's exit has gathered pace due to the belief the playing system favoured by Gasperini may not suit him, but when asked if the Dutch schemer could adapt his game and play in a 4-3-3 formation the Italian coach was adamant this would not be a problem.
"Absolutely, Wesley is a player who can play different systems," he added.
"He can play a more offensive role and he can play in a more orthodox central midfield position. He has done it with Holland and now he has proven he can do it for us."