Naismith ready for Malmo
Steven Naismith is remaining optimistic that Rangers can knock Malmo out of the Champions League qualifiers.
Last Updated: 31/07/11 1:45pm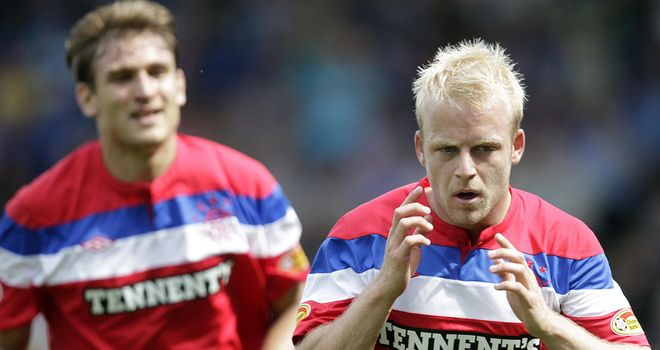 Steven Naismith is remaining optimistic that Rangers can overturn a first-leg deficit to knock Malmo out of the UEFA Champions League qualifiers.
Rangers lost 1-0 at home to the Swedes in midweek, but returned to form in the SPL on Saturday thanks to a 2-0 success away at St Johnstone.
And, though Gers' hopes of progressing towards the Champions League group stage are in the balance, Naismith feels the team can score goals in Malmo on Wednesday.
Naismith said: "The only positive we can take out of the first leg is that we did create so many chances.
"We did play so bad but we created four or five chances and on another day we might have scored.
"If we can create that many chances over there, hopefully we can take a few. As a team we would expect to be much better and create some chances.
"We are a bit relieved just to get off the mark this season, although last week, especially in the second half against Hearts, I thought we played really well."
Jelavic praise
Naismith hopes his partnership with Jelavic can prove to be the key to success against Malmo, adding: "I'm enjoying playing alongside Jelavic, he is a very clever player and he makes a lot of decisions for you in terms of putting the ball in the right place for you.
"So far this season, we have had a good understanding.
"He has shown when he has played that he has got top quality and some of his finishes are up there with the best.
"If we can get him fit and keep him fit, he is definitely going to be a big asset for the club."
The victory over Saints was Ally McCoist's first win as Rangers manager and he has refused to give up hope of another positive result in Sweden.
He said: "The main thing against St Johnstone was getting back on the road to victory and we did that. We now look forward to what will be a really difficult game.
"We can take encouragement, not only from the St Johnstone game, but also from the chances we created in the second half against Malmo as well.
"It's not going to be easy, it's going to be very, very difficult. But I have to say, I firmly believe we've got a real chance."