Mancini open over strikers
Roberto Mancini has given frank assesments on the futures of Carlos Tevez, Craig Bellamy and Emmanuel Adebayor.
By Alex Dunn in Dublin
Last Updated: 31/07/11 10:03pm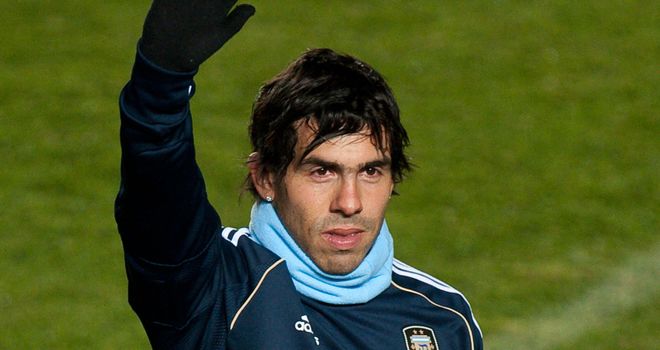 Roberto Mancini proved to be in a candid mood after Manchester City's victory over Inter Milan in Dublin as he gave frank assessments on the futures of Carlos Tevez, Craig Bellamy and Emmanuel Adebayor.
City were in impressive form in their final pre-season game before Sunday's Community Shield as they dispatched the world champions 3-0 in the Irish capital.
In his post-match press conference, Mancini said he will be happy to welcome wantaway striker Tevez back into the fold, with a purported switch to Inter seemingly no closer to being resolved.
"When Carlos comes back to training on Thursday we will have four strikers fighting for the shirts," said Mancini.
"That's good for us. When you are playing in four competitions, we need that competition, we need those players.
"Players fighting for the shirt is a good thing."
Although Mancini insists he is happy to have four main strikers competing for two places, he is keen to trim his squad to a more manageable level.
Craig Bellamy was one of several first-team players who did not travel to Dublin, with Mancini welcoming Celtic's interest in the Welshman.
"It is possible that there have been conversations about Craig Bellamy between us and Celtic," he added.
"I met Craig two days ago at Carrington. I spoke with him for 10 minutes. It was a friendly conversation - everything was normal.
Celtic-bound?
"He told me something I want to keep to myself. What I said two days ago was that if Celtic want Craig, he is a good player and I think he can go.
"He is a good striker and needs to be playing. Celtic are a good team. I would let him go on loan, because Craig deserves to play and he deserved to play for a good team. If they want him, sure."
Another striker whose days in Manchester appear to be numbered is Emmanuel Adebayor. Like Bellamy he was left behind at Carrington as he looks to secure a switch to Real Madrid, where he spent the second half of last season on loan.
Mancini would be happy to sanction Adebayor's permanent move to Madrid as he added: "It is the same with Adebayor.
On his way
"Manu is in Carrington. He wants to go to Real Madrid and if they want to take him, they can. We have four top strikers and it is really difficult.
"Manu is a good striker. We can't carry six strikers. He needs to play and I would be happy for him to go back to Real Madrid.
"I hope he can go back there. It is like with Craig. We have a lot of strikers, but I can't play six in the same strikers.
"It's important we find a good solution for them. I understand their situations."