AVB has Lampard's respect
Frank Lampard has dismissed claims Andre Villas-Boas will not have the full support of the Chelsea dressing room.
Last Updated: 01/08/11 8:08am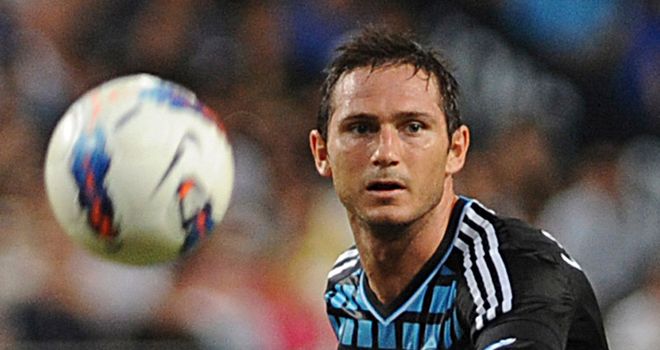 Frank Lampard has dismissed claims Andre Villas-Boas will not have the full support of the Chelsea dressing room.
Reports have suggested that new manager Villas-Boas could find it difficult to earn the respect of some players, particularly the older members of the squad.
Lampard, at 33, is just a few months younger than Villas-Boas, but maintains that he is fully behind the Portuguese tactician.
"I read that he has to gain our respect instantly, and it's never like that at football clubs," said the midfielder.
"It certainly isn't for me personally, and it wouldn't be for John Terry.
"You want to impress. I want to impress him now at the age of 33 just the same as I did when I was 22. Simple as that.
"We are here to impress as individuals, and we want to make the group successful. We will always respect the manager, and that applies with any manager we get."
Chelsea have made an encouraging start to life under Villas-Boas with some fine pre-season performances and Lampard is confident they will hit the ground running against Stoke on the opening weekend of the Premier League campaign.
"We've improved, I think every game has been a general improvement, we have got together with the new staff and manager, and the assistants and I just think that we have improved," he said after helping the Blues win the Asia Trophy in Hong Kong.
Freshness
"There is more work to do between now and the start of the season, but I think it has been a very positive trip.
"It's been a two way thing, he has been assessing players, that's why everyone has got a lot of minutes, from young players all the way through, and I just think we have been getting used to the manager and his style.
"A lot of that is done through the training and the ideas that he wants to get across in training, and I think you can see the benefits of that.
"I wouldn't say there is a new trend in the way of giving us more freedom. I think the manager is trying to liberate, but players have been given the freedom to liberate themselves for quite a long time at Chelsea."
Lampard hopes Chelsea will bolster their squad before the transfer window closes but insists there is already a positive mood around the camp.
He explained: "I think there is a nice freshness about the team and the squad and the players who maybe were not sure they were going to stay, or players that were on loan, or young players that have come through and are getting a sniff now.
"I think we have got a strong squad, and if the manager adds to it and it makes us stronger then we will all be happy, I certainly will be. It remains to be seen in the time to the end of the window."
McEachran praise
Young midfielder Josh McEachran, 18, has caught the eye during pre-season and is likely to be granted more regular opportunities under Villas-Boas, but Lampard is ready for the challenge from a player he holds in high regard.
"He is really mature for his age," Lampard added: "He doesn't really come across as the same age as me, I am probably more immature than him in a way, but he certainly has a great maturity about him. He sort of hides his years really.
"I'm 33 and I'm the same. I feel good, I feel experienced, I feel as hungry, I feel like I missed most of last season really with the injuries I never had before, so there is a desire to get going again.
"I think Josh does give us something different. He gives us something in the middle of the park, a great elegance in the way he plays.
"He receives the ball really well, he can play a killer pass, he's stronger than he looks with his frame. He's going to be a top player.
"There will be a position for him, he's not going to play 50 games this season, but you can see from pre-season already that he is going to be involved a lot more, and that's great for him.
"No, people are not afraid to give him the ball, because we have trained with him for a couple of years now, and from the moment he stepped into training with us we could see he had that ability."