Cesc faces Arsenal fans
Cesc Fabregas faced Arsenal fans for the first time in more than three months at the club's Members' Day.
Last Updated: 05/08/11 6:45am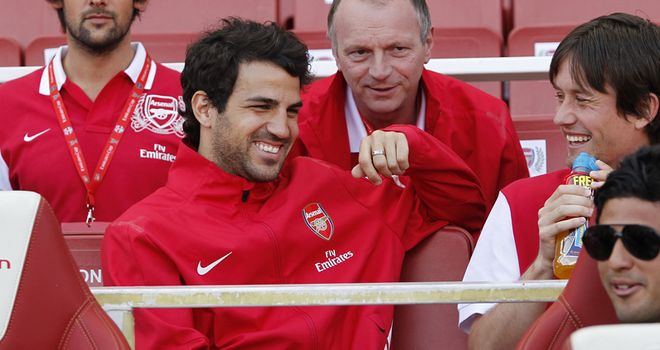 Cesc Fabregas faced Arsenal fans for the first time in more than three months at the club's Members' Day.
Fabregas could have expected a frosty reception as he took to the pitch with the rest of his Gunners team-mates for an open training session at the Emirates Stadium.
But there were no jeers for the 24-year-old, despite rumours he wants to quit the club for Barcelona.
Heavy rain also forced the club to postpone their official team photo, which may ultimately spare them being left with one that includes Fabregas were he to leave.
However, both Fabregas and contract rebel Samir Nasri are understood to have posed for annual in-house photos and videos on Thursday as well as completing the usual pre-season pictures for other media outlets.
The postponed team photo, meanwhile, is expected to be taken at Arsenal's London Colney training ground before the end of the month.
The Spaniard has yet to feature in pre-season although he could take part in Saturday's final friendly at Benfica.
Barca continued to woo Fabregas on Thursday, with the midfielder's Spain team-mate Andres Iniesta, telling Sport: "We have said it many times before. We would be thrilled with his arrival.
"We are speaking about one of the best, but it all depends on the two clubs as well as the player's wishes."
The bad weather was also one factor behind what was a low turnout of around 3,000 at the Emirates, when a crowd of 10,000 had been expected.
Those who stayed until the end of the session were rewarded with an address from manager Arsene Wenger, who revealed he was "more determined" than ever to end the club's silverware drought.
Arsenal face a tough start to the Barclays Premier League season, with a trip to Newcastle followed by games against Liverpool and Manchester United.
Wenger said: "We know that but we are ready, well-prepared and determined to have a strong start.
"We'll give absolutely everything to do it. Let's focus and believe that we can do it."
He added: "We had a good preparation and, I think, good team bonding.
"Overall, we are very happy and confident.
"We feel we were very, very close last year and we want to do it this year."