Mancini expects 'happy' Tevez
Man City boss Roberto Mancini believes Carlos Tevez is 'happy', despite a summer of transfer discontent.
Last Updated: 06/08/11 11:23am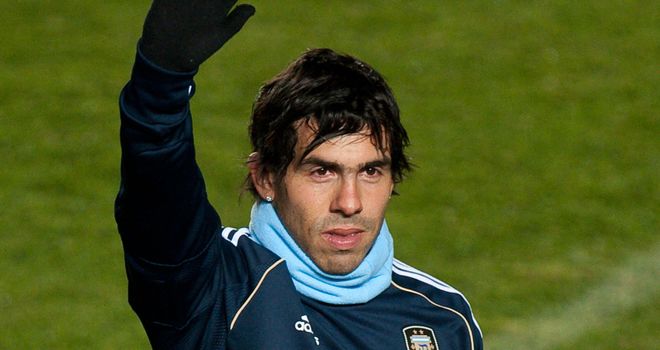 Manchester City manager Roberto Mancini believes Carlos Tevez is 'happy', despite a summer of transfer discontent ahead of the striker's return to the club.
Tevez will miss the FA Cup winners' Community Shield clash against derby rivals Manchester United on Sunday having been granted leave following Argentina's Copa America campaign until Monday.
It was initially thought Tevez would be back at the club's Carrington training base on Thursday but Mancini says the striker had always been allotted 21 days' holiday.
"I have spoken to him, his phone is working again," joked Mancini, referring to reasons he gave for not being able to contact the player earlier in the summer.
"He was happy and told me he would come back on Monday - everything was normal.
"He was on holiday, there was a mistake. We said he needed to come back on August 5 with Zaba [Pablo Zabaleta] but it was my mistake because I told him come back on August 8.
"Carlos comes back on Monday because he has 21 days after the Copa America."
No offers
Speculation over Tevez's future has dominated City's summer, with the 27-year-old having made clear his desire to leave the club.
Tevez, City's top scorer and talisman last season, has previously said he will never return to Manchester, even on holiday.
A £40million move back to his former club Corinthians in Brazil collapsed in July and reports have persistently linked him with Inter Milan.
Yet with no new offers Mancini is expecting him back and to play a full role at the Etihad Stadium from next week.
"He doesn't have another team," said Mancini when asked about reports of a swap deal involving Inter right-back Maicon.
"Carlos is a professional player. If he doesn't have another team in the next 10 days or two weeks I think he will play for us and play serious like last year, like always."
When asked whether Tevez was likely to move before the transfer deadline at the end of the month, Mancini added: "I don't know. A lot can happen in one month but if he stays I am happy."
Aguero
The rumours linking City with Maicon highlight a lack of cover for first-choice right-back Micah Richards.
Because of that Tevez's international team-mate Zabaleta has returned to training and will be available to play at Wembley on Sunday.
Mancini said: "Zaba is here because if we had a problem with Micah we have only one fit right-back."
City's £38million record summer signing Sergio Aguero, who was also involved in the Copa America with Argentina, will be on the bench this weekend.
The former Atletico Madrid forward has had blistered feet but is now training as normal.
Mancini said: "He is not 100% ready but he is fit to come on the bench."
City have also signed defenders Gael Clichy and Stefan Savic in addition to Aguero this summer.
Mancini said: "We are missing other players, we don't have enough players for all the season. This is a problem at the moment.
"I think we need another two or three players."