Henderson to hide sentiment
Jordan Henderson will put sentiment to one side if he lines up for Liverpool against his beloved Sunderland.
By Jamie Casey
Last Updated: 07/08/11 11:51am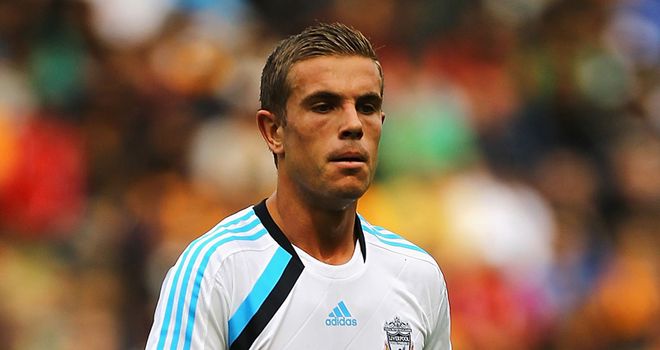 Jordan Henderson will put sentiment to one side if he lines up for Liverpool against his beloved Sunderland next weekend.
The 21-year-old completed a move from the Black Cats to the Reds for an undisclosed fee earlier this summer, with the deal believed to be worth in excess of £20million.
Mackem Henderson remains a Sunderland fan, though, and predicts a bright future for the club without him, but he is wary of a backlash from the away support at Anfield on Saturday.
"They had good players when I was there as well so they are going in the right direction," Henderson said.
"Hopefully that can help save me any stick from the crowd - although I'm not sure as that's up for them to decide upon.
'Job to do'
"I've got good friends there still. I'm looking forward to the game and hopefully it's a good day for Liverpool. It might be a bit strange but I've got a job to do for Liverpool now."
Touted as a long-term successor for 31-year-old club captain Steven Gerrard, Henderson rejects talk of their similarities.
He said: "There's a lot of good players here and Steven is one of them. He has been one of the best players in the world for many years now.
"But I don't model myself on him or anyone. I try and do my own thing on the pitch and will look to keep going in the right direction."
Meanwhile, fellow summer signing Charlie Adam admits he has former club Blackpool to thank for providing him with the chance to play in the Premier League.
Excelled
Adam helped the Tangerines to promotion from the Championship and excelled in the top flight during a rollercoaster season, doing enough to seal a move to Anfield plus a bumper wage packet.
"I've always been confident in my own ability to play at the highest level," Adam told The Sunday Mirror.
"But up until last year when Blackpool were in the Premier League I had never been given the opportunity to prove it.
"There's no better feeling than walking out at three o'clock on a Saturday to play football. Every footballer would tell you that - or they should do.
"It doesn't matter how much money you earn, playing is the most important thing.
"That's what I have looked forward to since I was a boy and hopefully I'll get the opportunity to do that and be successful at Liverpool."