Bent confirms shoulder injury
Darren Bent has confirmed a shoulder injury has sidelined him for England's friendly against Holland.
Last Updated: 07/08/11 9:37pm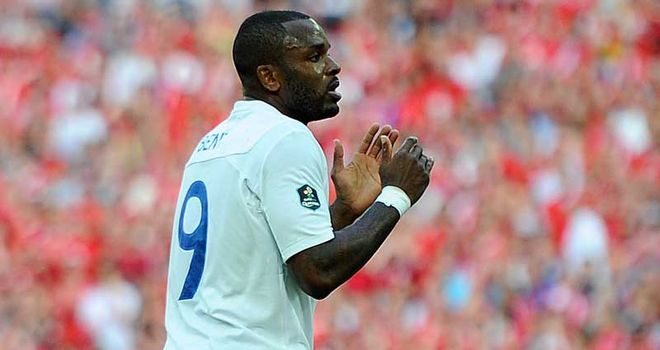 Darren Bent has confirmed a shoulder injury has sidelined him for England's friendly against Holland on Wednesday.
When manager Fabio Capello unveiled his 25-man squad late on Saturday night, Bent's name was missing.
The initial reason offered was that Capello had been informed earlier in the week the Aston Villa striker had been struggling with a shoulder problem and was not fit enough to be included.
Yet Bent featured in Villa's friendly with Sporting Braga on Saturday and his club offered up no immediate injury concern.
However, it has now been made clear the former Sunderland star did feel more discomfort from the injury in Portugal and he confirmed on Twitter that he did not want to put himself at risk prior to the Premier League's opening round of fixtures this weekend.
Withdrawal
"Gutted I had to pull out of the England squad," said Bent. "The shoulder has been bothering me and wanna make sure I'm fully fit for the big KO next week."
Instead, Manchester United's Danny Welbeck got the call as England's fourth striker, ahead of Jermain Defoe and Daniel Sturridge.
Welbeck was one of 11 players involved during Sunday's Community Shield that were due to report for duty at England's training HQ at the Grove Hotel in Watford.
However, Sir Alex Ferguson has already expressed doubt over the 20-year-old's involvement, revealing that Welbeck had suffered an ankle problem during the 3-2 win over Manchester City and his fitness would need to be assessed by the FA's medical staff.
In addition to those on duty at Wembley, Scott Parker and Robert Green featured for West Ham in their Championship defeat to Cardiff at Upton Park and will also need to be assessed.
Capello has vowed not to take any risks with the players at his disposal, but the Italian accepts players can sometimes mask the truth about their fitness in an effort to make their presence felt on the international stage.
Problem
"Possibly some players will not be completely fit," said Capello. "They might have a little pain.
"The manager says why are you playing in a friendly game? We need you for an important game on Saturday in the Premier League.
"I know how they think. I remember this problem.
"But if the player decides he wants to go to the national team, it is impossible to stop him. He might say he thinks he is OK or the pain is not so strong."