Vidic - United are ready
Nemanja Vidic is confident Man Utd are ready for the season following the Community Shield success.
Last Updated: 08/08/11 12:28pm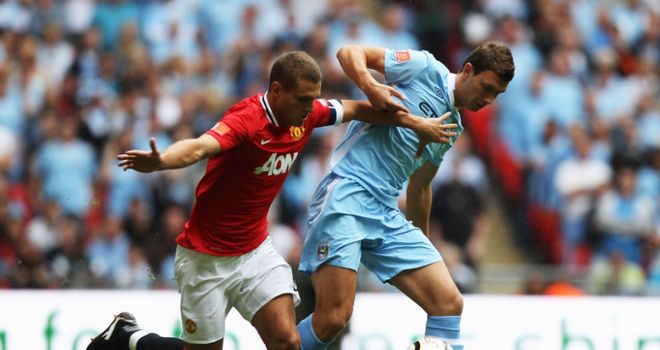 Nemanja Vidic is confident Manchester United are ready for the start of the season following their Community Shield success over Manchester City.
The Premier League champions trailed 2-0 at half-time at Wembley before a stunning second-half comeback was capped by Nani's injury-time goal which secured a 3-2 triumph.
That allowed captain Vidic to lift the first silverware of the new season, although he was not worrying about sending out a message to United's trophy rivals, including big-spending City.
Vidic said: "I didn't think about that. We just have to look at ourselves and take the best from this game.
"A few players had really good games, especially young players. We just showed we are ready for the season.
"We were 2-0 down after the first half and to change the game to 3-2, it's a great performance, great performance especially second half."
Happy
Asked the age-old question about what Sir Alex Ferguson had said at half-time, Vidic replied: "He just said, 'You have to keep going, doing the same stuff'.
"We did it first half, obviously. We kept the ball well. Maybe we gave away two easy goals but, overall, he was happy with the performance."
Nominally a 'friendly', an all-Manchester affair ensured Sunday's game was anything but, with City lucky to finish the game with 11 men.
United refused to take a backward step either and Vidic said: "I know it's the Community Shield. Maybe it's not that important a trophy.
"But, still, it's a derby game and we wanted to win this game. City, I think is the same. They showed it with the challenges they did in the first half.
"Overall, I think it was a good game and the fans could enjoy it."