Carrick welcomes fight for places
Michael Carrick insists he welcomes the challenge of facing more competition at Man United this season.
By Ben Collins
Last Updated: 11/08/11 3:15pm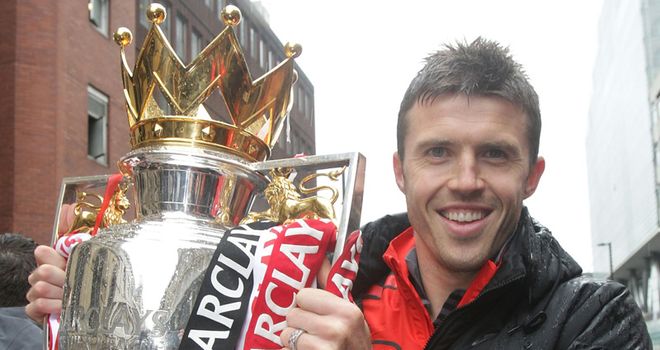 Michael Carrick insists he welcomes the challenge of facing more competition at Manchester United this season.
Paul Scholes retired this summer while fellow midfielder Owen Hargreaves was also among the players to leave Old Trafford.
But England winger Ashley Young is one of three new signings, adding to a squad that already has Carrick, Ryan Giggs, Anderson, Darren Fletcher and Darron Gibson as options in centre-midfield.
Youngster Tom Cleverley has emerged as another contender after an impressive debut in Sunday's Community Shield win but Carrick is not even worried about the potential arrival of Inter Milan star Wesley Sneijder.
"I'm not fearful of that at all, I embrace it," he told Sky Sports News. "That's what this club is all about.
"It's going to be tough but every season is as tough as each other.
"It's a clean slate now, we've had a bit of a turn-around with the playing staff and we've got a really young squad now.
"There's always competition for places here, that's what makes it so great. You've got to be on top of your game to be playing and that's probably how we've had the success over the years. If you want to be involved you really have to be at your best.
"It's great to see the young lads coming through. I really enjoy seeing the young lads progressing and getting a chance in the first team.
Bright future
"Danny (Welbeck) did really well at the weekend and so did Tom, so it certainly bodes well for the future. They'll be chomping at the bit to get a lot of football this season."
Cleverley was a half-time substitute for Carrick at Wembley and helped United recover from 2-0 down to beat neighbours Man City 3-2.
The 21-year-old then received his first England call-up and Carrick believes he has what it takes to establish himself in the United team.
"He's a big talent, but not only that, mentally he's spot on," he said. "His attitude's first class.
"He listens, he works hard and his only focus is football and how to improve. He's a got a massive chance of being one of the best."
Sunday's performance led to suggestions Cleverley could be the long-term successor to Scholes but Carrick feels such comparisons are unfair.
"It's not so much replacing him, you've just got to move on and adapt," he added. "We've done it over the years.
Adapt
"When Cristiano Ronaldo left three years ago, everyone said 'how do you replace him?' But we didn't replace him like-for-like, we moved on and adapted, and were still successful. That's the aim.
"Losing playing like Scholesy, Gary Neville and Edwin van der Sar, you just have to adapt. Players come in and stamp their own authority and personality within the team and the squad, and we look to move forward."