McLeish considers Hitz option
Alex McLeish has indicated that he might be interested in signing Thomas Hitzlsperger to give Aston Villa more experience.
Last Updated: 12/08/11 8:41am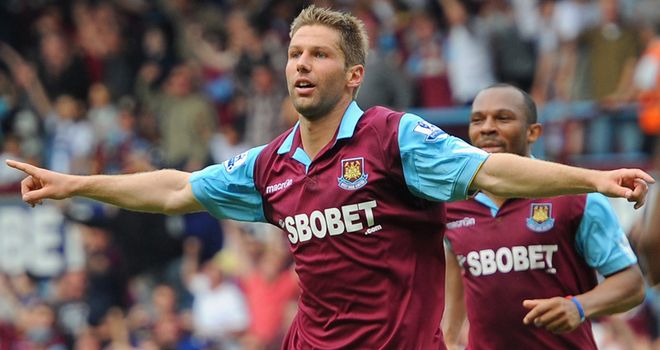 Alex McLeish has indicated that he might be interested in signing Thomas Hitzlsperger to give Aston Villa more experience in midfield, but he is also trying to reduce the club's wage bill.
Germany international Hitzlsperger played for Villa earlier in his career and gained further experience of the Premier League last season with West Ham.
He left the Hammers following their relegation and has been linked with a move back to Villa this summer.
McLeish is considering his options and admits Villa may be in the market for a midfielder with such top-flight know-how.
"Thomas' name has been mentioned against a number of other players," he said.
"If it came to a choice, we'd have to think about everything if we were able to get that choice.
"Maybe in midfield, in terms of experience, we are a little bit lacking."
McLeish nevertheless recognises that no more new signings will be possible until he has offloaded players from the current squad who are not at the forefront of his plans.
The manager is working closely with owner Randy Lerner in cutting the wage bill at Villa Park, but that will not stop the Scot from trying to bring success to the club.
McLeish said: "I've said, all along, since I joined the club, that we won't be bringing players in until we trade.
"We still have a very heavy wage bill and we've got to try and work with Randy Lerner and Aston Villa to adjust that.
"There are players at the club we respect totally but who haven't played much first-team football and we have to try and let them seek football somewhere else.
"But, at the same time, getting the wages off the bill would then allow us to look at other incomings."
Cuellar
Carlos Cuellar appeared set for a move back to Rangers earlier in the summer but there have been no fresh developments over the past couple of weeks and McLeish does not know if a deal will be finalised.
"I'm not sure where Rangers are with it at all. It will probably (go to) the transfer deadline," he said.
"I don't think we've run out of patience in terms of when Carlos goes.
"That would definitely be handy (if a deal happens) but at the moment it's not happened."
In terms of Villa's aims this season, McLeish called for patience as he looks for a period of consolidation in his first year at the helm.
He explained: "I think we are a work in progress this season.
"We have to rely on some patience and we also have to have a steady season.
"If it's spectacular then brilliant, that's what we aim for, but we've got to have a steady season.
"I'd love to finish as high as I can but I think that people have to be patient."