Jol - No Jerome follow-up
Martin Jol has confirmed Fulham have not followed up their initial bid for Birmingham striker Cameron Jerome.
Last Updated: 12/08/11 6:50pm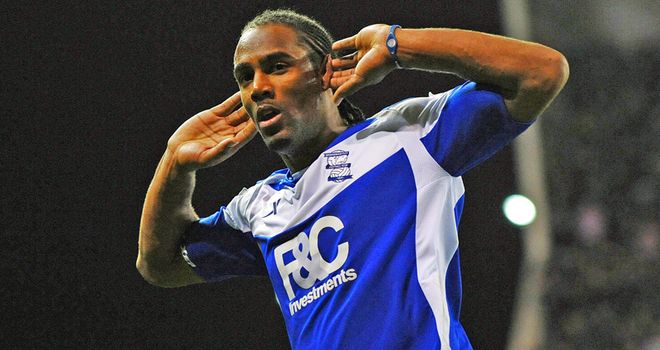 Martin Jol has confirmed Fulham have not followed up their initial bid for Birmingham striker Cameron Jerome.
The Cottagers registered a formal £3million bid for the Blues hot-shot earlier this month, which Jol said was rejected by the Championship outfit.
The two clubs have since not entered into negotiations over the striker, who is also being linked with Bolton.
"We made a bid. But we haven't heard from them and they haven't heard from us," Jol is quoted as saying by talkSPORT.
He added he would like to sign up to two more players before the transfer window closes.
"I'm happy with the squad we have got, if they are fit," he said.
"That is probably not realistic though so that's why we are looking for one or two additions."
Contract extension
Meanwhile, Jol is confident Andrew Johnson will sign a contract extension within the next month after hailing the striker's return to form.
For the past two years, Johnson has failed to justify his £10.5million price tag, scoring just three times each season.
Jol has overseen a transformation in Johnson's fortunes this summer though, with the 30-year-old already finding the net three times during the club's Europa League qualifying campaign.
The Fulham boss has been impressed with Johnson and is convinced the hitman is now playing as well as he did when he tried to sign him as Tottenham manager between 2004 and 2007.
Back then, Johnson was a regular in the England squad and only just missed out on a place in the 2006 World Cup squad.
Although Jol feels a return to the international fold is probably beyond Johnson, he does reckon the striker is now back to his best and he is therefore determined not to lose him when his contract expires next summer.
"When I was in England before, I was interested in signing him but he was too expensive. He was doing well at Crystal Palace and he looks the same now as he was then," Jol said.
"He's scoring goals, he's getting on the end of things, he's very good at receiving the ball.
"He is a very good second striker. He comes from midfield and he makes runs and stretches defences.
"He is doing two jobs and he is probably the only player in England who can do two jobs in one.
"He is doing very well and that's why the club are in talks with him to extend his contract."
Jol expects Johnson to sign the 12-month extension "within the next month" and is convinced the striker's well-documented injury problems are over.
"He is running like a chicken. I can't see any injuries. He is fit," he said.
Zamora key
Jol also hailed fellow striker Bobby Zamora, who he believes will be key to his goal of achieving a top-half finish for the London club this term.
The former Spurs striker missed a large chunk of last season after breaking his leg and suffered yet another setback when he broke his hand last month.
Zamora has continued to play while wearing a protective cast and will do so against Aston Villa in the Premier League opener.
"The most important thing for any team is to have one or two players who can make the difference and he did that for Fulham," Jol added.
"It's not easy to find someone like him. He's a gift. He sees the ball, he can turn, he has good technique. He is a good player.
"I would like to keep him fit. Last year he had a few injury problems but this year I played him three days after (he broke his hand)."