Coyle hails his Bolton side
Owen Coyle praised his Bolton side after their most emphatic away win in six years following a 4-0 success at QPR.
Last Updated: 13/08/11 6:22pm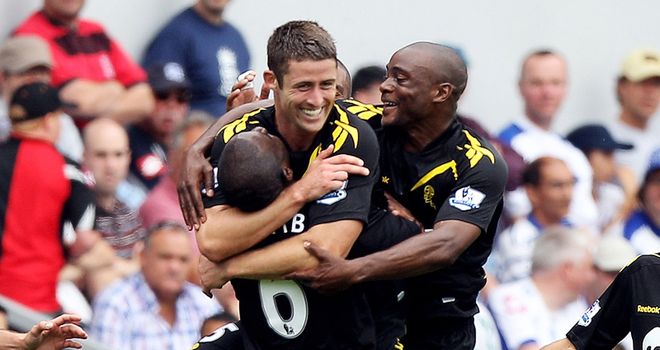 Owen Coyle praised his Bolton side after they claimed their most emphatic away win in six years with a 4-0 success at Queens Park Rangers.
The Hoops ran away with the Championship title last year but discovered on their return to the Premier League, it is an entirely different beast to the one they last featured in 15 years ago.
Coyle, who managed Burnley in the top-flight when they beat Manchester United a couple of years ago, was wary of the threat posed by the newly-promoted Rangers.
However, a quality strike by Gary Cahill on the stroke of half-time gave them the advantage.
Danny Gabbidon scored an own goal before Ivan Klasnic and Fabrice Muamba completed the rout, and it was a performance that left the Bolton chief purring.
Tremendous
"Well I think it was a tremendous result," he told Sky Sports News. "We knew that we were going to have to withstand some early pressure, because Queens Park Rangers had run away with the Championship last year.
"Their fans were on a high and I'd experienced it myself with our own first home game of the season with Burnley, when we beat Manchester United and Robbie Blake scored with a wonder volley.
"I knew the atmosphere would be incredible and it was, we would have to defend with our lives early on, but gradually we grew into the game and scored a wonderful goal through Gary Cahill.
"That gave us the platform to go on and express ourselves, and I don't think there is any doubt we are fully deserving of the three points and the goals we scored."
Cahill has been linked with a move to the Premier League's more illustrious names over the summer, with Arsenal and Liverpool rumoured to be ready to pounce.
Coyle revealed recently that there had been no firm bids for the England international and, after his stunning opener at Loftus Road, a few more zeros will surely be added to his price tag.
Change
But Coyle believes it did not change the course of the game too dramatically as he felt they were tightening their grip on the contest.
"It was a wonderful goal, but I don't know if it changed the game because I felt we had grown into the game and were getting a stranglehold on the game," he added.
"But once we got that goal, the confidence flows through the players and even more so after that and it was just a wonderful goal from Gary.
"I've said before, he has feet that belong to a centre-forward although he operates as a centre-back.
"He's got unbelievable pace and great timing in the air, and he's just a wonderful footballer, and as I say, it set us on our way to a tremendous victory."