Maynard shrugs off speculation
Nicky Maynard insists he will not let uncertainty surrounding his future at Bristol City affect his performances.
Last Updated: 14/08/11 3:23pm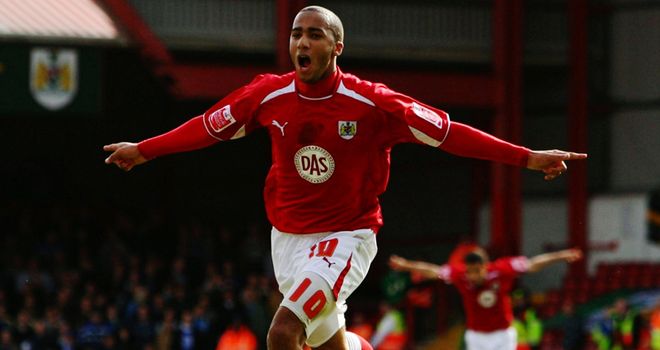 Nicky Maynard insists he will not let uncertainty surrounding his future at Bristol City affect his performances.
The highly-rated striker has been the subject of three bids from Leicester this summer, while reports continue to suggest that a number of Premier League sides have him in their sights.
Maynard has entered the final year of his contract at Ashton Gate and his yet to agree fresh terms despite an offer having been on the table since the spring.
He will be available as a free agent next year if no extension is agreed, meaning City face something of a dilemma.
They are reluctant to sell, with it their belief that a deal can be thrashed out, but they are taking a risk on one of their most saleable assets.
Maynard accepts that the situation is far from ideal, but he has sought to assure the Robins' supporters that he will give 100 per cent on the field until off-field matters are resolved.
He told the Bristol Evening Post: "We are still talking and the chairman pulled me aside just the other day and wanted to know where my mind was at.
Distraction
"I told him I was not going to let it affect me and that I was going to play my best and not just fob it off.
"I've spoken to the manager and the chairman about it and told them 'if it gets sorted, then it gets sorted. If not, then I'm not the type of person who is going to let it affect the way I play'.
"I've proved pre-season that what is happening behind the scenes is not affecting me. I'm not the sort of person to be distracted by what goes on off the pitch and, now that the season has started, there is nothing in my mind other than scoring goals and getting Bristol City as many wins as possible.
"Outside of that, whatever happens will happen."
On his long-term future, Maynard added: "The Premier League is every player's aim and I'm no different. Obviously, I'm still at Bristol City and my aim is to get the club into the Premiership.
"At the end of the day, whether I get there with Bristol City or not is another matter. But while I'm here, I will always give 100 per cent and do the very best that I can.
"The manager wants to be in the Premier League, the other players want to be there and so do I. If we all perform to the levels we know we can, then we will be there or thereabouts."