Maiga demands Newcastle move
Modibo Maiga is refusing to play for Sochaux in order to force through a move to Newcastle United.
By Patrick Haond
Last Updated: 15/08/11 11:50am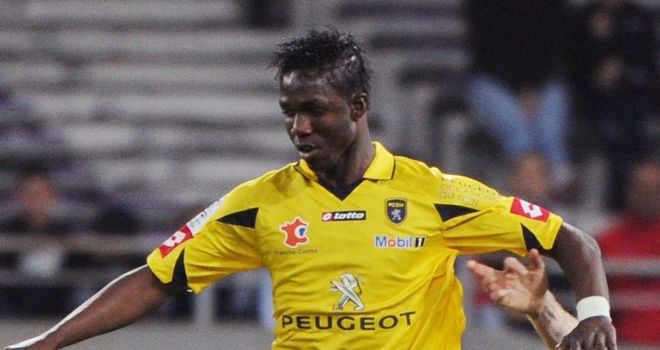 Modibo Maiga is refusing to play for Sochaux in order to force through a move to Newcastle United.
Newcastle have made a bid for the Malian international, which is understood to be in the region of €8million (£7million).
However, Sochaux are refusing to do business, which has angered the 23-year-old and he refused to play in the weekend's defeat to Caen.
Maiga has now told Sochaux that he does not want to play for them again and wants to join Newcastle.
He has been offered a new contract by Sochaux, but that only happened after Newcastle made their move.
"Yes [they have made me an offer], but before the Newcastle offer I have not been offered anything, but now I would like the chairman to consider my interest. I want to leave.
"I met everyone at Newcastle. They want me and it is not just any club. Premier League is a dream.
"That is the kind of game I like, it suits me and it is good for my career. I want to leave, he has to accept that and negotiate.
"I told the coach I would play and respect my contract, but the chairman has to talk about my transfer first. I don't want to annoy Sochaux, but I want it to be sorted out with Newcastle."
Not happy
Maiga is not happy that the initial offer was rejected, and he has told Sochaux of his displeasure.
"Offers have now come for me and the chairman refused to talk," Maiga, who scored 15 goals last season, told L'Equipe.
"I had a meeting with him and I could not accept his position, it is just like a big slap in the face.
"It was the very first time I asked for something and I believe it is lack of respect. Why refusing to talk? It is selfish, I can't understand.
"You can't refuse such an offer. The sums are huge, both for me and for the club. Sochaux will not lose."
Maiga, who can play out wide or up front, only joined Sochaux last year when he moved from Le Mans and he was hugely impressive in his first season finishing as one of the top scorers in France.