Hoolahan praises team spirit
Norwich City midfielder Wes Hoolahan is delighted to have scored the equaliser against Wigan.
Last Updated: 15/08/11 4:05pm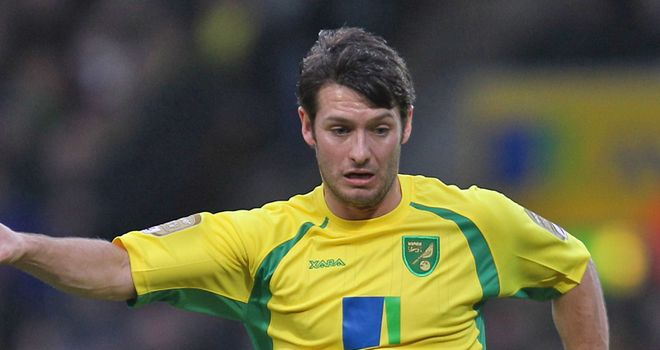 Norwich City midfielder Wes Hoolahan is delighted to have scored the equaliser against Wigan Athletic, but warns that the Premier League is more difficult than the Championship.
Norwich were one of the three teams to gain promotion to the top flight at the end of last season and resumed life among the big boys with a 1-1 draw against the Latics away at the DW Stadium.
Hoolahan, who equalised for Norwich just before half-time after Ben Watson had given the hosts the lead from the penalty spot on 21 minutes, is overjoyed with the final result.
"It feels good, it has been a long time waiting for the club, but we deserved to be here and all the lads have been brilliant," he told Norwich's official website. "We got off to a good start.
"We knew it was going to be a difficult game, but we equipped ourselves well out there today (Saturday), and certainly deserve a point. We've shown great character."
Team spirit
Elaborating further on the events in the match, the 29-year-old stated: "We went behind but we will always come back, that's our team spirit.
"Steve Morison did well on the right-hand side, beat the man, put a good ball in, then the 'keeper made a mistake and I was there to stab it in.
"It was great to come from a goal behind. (In the) second-half we played really well and the last 15 minutes are always going to be tough.
"We have made a few crucial blocks at the end, they hit the post but we hung on and it was a great point in the end."
Challenges ahead
However, Hoolahan noted that it is going to be more difficult for them this year than it was last season, but remains confident of achieving their objectives.
"The Premier League is a lot quicker," said the Irishman. "If you make a mistake, they'll punish you. But we've adapted ourselves well and we're just looking forward to the coming months.
"We're always going to compete, the lads have been great, so hopefully in the coming weeks we can show we can get the ball down and play some football."
Norwich's next challenge in the Premier League is against Stoke City at home on Sunday.