Wenger admits 'reduced' Fab fee
Arsene Wenger has revealed Arsenal could have got more money for Cesc Fabregas but granted his wish to return to Barcelona.
Last Updated: 16/08/11 9:07am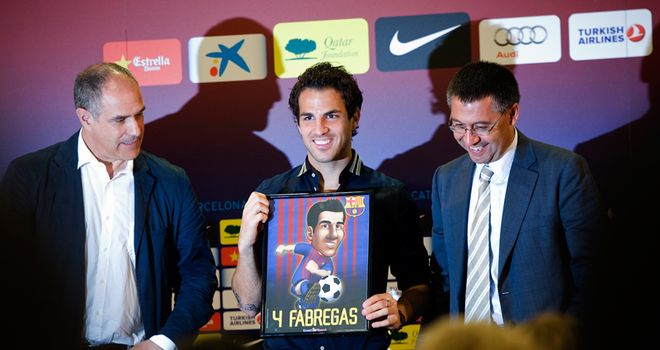 Arsene Wenger has revealed Arsenal could have got more money for Cesc Fabregas but decided to grant the midfielder's wish to return to Barcelona.
The long-running transfer saga finally reached its conclusion on Monday when Fabregas sealed a move back to Camp Nou after eight years with the Gunners.
Wenger had previously resisted Barca's attempts to sign Fabregas as Arsenal held firm on a £40million valuation.
But it is reported that the final deal was only worth around £35million, with Arsenal believed to be getting paid £25m up front followed by a possible extra £4.3million depending on Barca's success.
Arsenal will then receive almost £1million for each year of Fabregas' five-year contract, while they have also secured a 'buy-back' option and a 50 per cent sell-on clause if Barca ever decide to move him on.
Wenger maintains that it is a good deal for Arsenal but admits they could have generated even more cash by starting a bidding war.
However, Wenger was prepared to let Fabregas rejoin the club where he started his career as a schoolboy.
"We sold Cesc for a reduced fee," said the Arsenal manager.
Fight
"If Cesc is for sale and you can make an auction between Real Madrid, Chelsea and Manchester City, you will certainly get more money, but he just wanted to go to Barcelona.
"If he was on the market to any club we would have got more money, but we did want to get a decent fee.
"That's what I'm paid for. You cannot say because you want to get the deal done as quickly as possible: ''Just take him and give us what you want'.
"You have to fight for your rights. What is good is that you call multi-million pound players 'cheap'."
Wenger believes there is a possibility that Fabregas will return to the Emirates Stadium at some point in the distant future.
He said: "Cesc went because he was desperate to play for his hometown club, where he was educated.
"Maybe he will come back one day to the club, you never know."