Cesc - Wenger is the best
Barcelona midfielder Cesc Fabregas insists that his relationship with Arsene Wenger remains intact.
Last Updated: 16/08/11 10:08am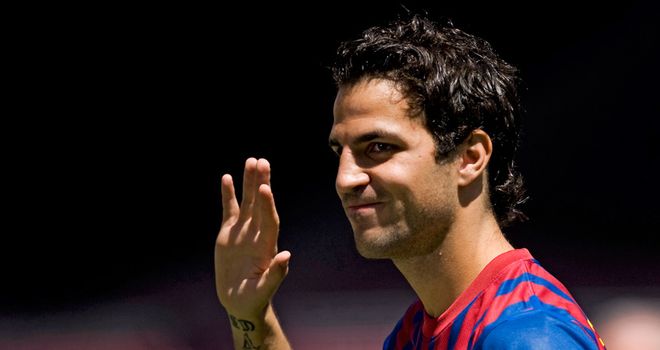 Newly signed Barcelona midfielder Cesc Fabregas insists that his relationship with Arsene Wenger remains intact despite his departure from Arsenal.
Fabregas completed his move to Barca on Monday on a five-year contract, with Arsenal understood to receive a total of £35million including add-ons in the coming years.
It saw an end to a long-running transfer saga and although Fabregas is happy to have finally returned to the club he left as a teenager, he insists that his relationship with Wenger has not been damaged.
Fantastic relationship
"The relationship is fantastic," said the 24-year-old at his official unveiling. "On Friday I said goodbye to him and I got very emotional because he's like a father figure to me.
"I couldn't even talk at one stage, when I wanted to say how grateful I was. I got a bit emotional and couldn't talk much.
"I had to send him a message afterwards, saying 'I'll never forget what you've done for me'. If it hadn't been for him, I wouldn't be here today, living my dream.
"I think if Arsenal want to keep being the club they are, then they have to always be under his control, because he's the best, everyone respects him, and for me, he will always be the best person I've met in football."
In good hands
Fabregas has been the mainstay of Arsenal's midfield for over five years and his departure could leave a hole in that department.
However, the Spain international insists that youngsters Jack Wilshere and Aaron Ramsey are more than capable of replacing him.
"There is not even a question over whether or not Arsenal's midfield is in good hands," he enthused. "Jack (Wilshere) will be the England captain inside the next two or three years, you don't have to be a magician to work that one out.
"As for Aaron: his engine is unbelievable, his final ball will get better and he will be the next big star at Arsenal. They are winners and they will be amazing for the club."
Arsenal will begin their post-Fabregas era on Tuesday when they host Italian club Udinese in the first-leg of their Champions League play-off tie.