Rodriguez relishes competition
Maxi Rodriguez maintains that he is excited by Liverpool's new signings regardless of the threat to his first-team place.
Last Updated: 17/08/11 12:37pm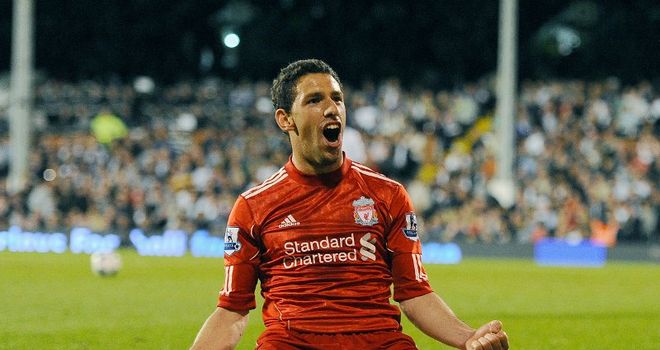 Maxi Rodriguez is pleased with the signings Liverpool have made during this summer's transfer window, despite the increased threat to his own spot in the starting line-up.
Since the window opened, Liverpool boss Kenny Dalglish has added Jordan Henderson, Charlie Adam and Stewart Downing to his midfield, leaving Argentine playmaker Rodriguez battling for his place.
During the Reds' 1-1 draw with Sunderland at the weekend, Adam, Downing and Henderson were all preferred to Rodriguez, who was not included in Dalglish's squad.
Despite his seven goals and two hat-tricks for Liverpool last season, the former Atletico Madrid man looks to be out of favour at Anfield but is adamant that the increased competition is a good thing.
Competition
Talking to the Liverpool Echo, Rodriguez said: "Healthy competition is always good.
"Competition for places is always a positive thing for the club and I think it's great that the signings who have arrived are of such high quality with a great level of skill and technique.
"It means the manager has to decide on what he thinks is his best 11, but that is something he will decide and we will all be hoping we are in it.
"It's always nice to welcome in new faces to the club and you always go out of your way to make them feel as comfortable as possible. They are settling in well."
Strong Start
Rodriguez believes that a good start is vital for Liverpool's season, and is eager to hit the ground running.
He added: "I don't think you can stress enough the importance of the first few weeks of the season.
"If you can see yourself near the top of the table it's great and the confidence that gives helps you grow as a team and as a squad.
"It also means that the teams you are facing will maybe come to Anfield with a different attitude, perhaps showing more respect when they're coming to play against you.
Aspirations
"I think that at the start of any season your ultimate goal is to win the league and come out as champions.
"If you can aim to achieve that then by the very fact that you are fighting for the title it will almost guarantee that you will be involved in the Champions League the following season.
"A team like Liverpool has to be battling on that level and have those kind of aspirations for the end of the season."