Gilks targeting promotion
Blackpool goalkeeper Matt Gilks sees no reason why the club shouldn't aim for promotion back to the Premier League.
Last Updated: 17/08/11 2:22pm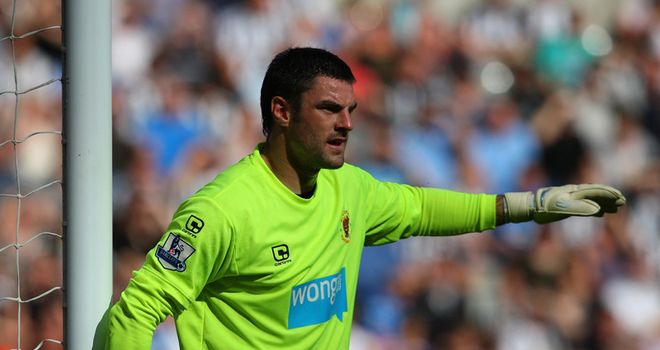 Blackpool goalkeeper Matt Gilks has called upon his team-mates to aim for promotion this season as he eyes a return to the Premier League.
Whilst the Scotland international acknowledges that his team have a long way to go, he claims to see no reason why top-flight football could not be returning to Bloomfield Road next season.
With two wins so far this season, over Hull and Peterborough, Gilks is optimistic heading into Wednesday night's match against Derby County.
He told the Blackpool Gazette: "This is the start we wanted. You want to win your first couple of games.
"We probably didn't play as well against Peterborough as we did at Hull but it's six points out of six. The games come thick and fast, and hopefully another three points against Derby will set us up for a tough trip to Brighton.
Aspirations
"Promotion is definitely a possibility, why not? There are a lot of good teams in this division and it is very difficult, but there is no reason why we can't be up there competing, if not actually at the top.
"We are going to get better and stronger. We are working hard because we want to improve and get to where we want to be, which is winning games on a regular basis all season.
"We've got a few different faces but the back five is more or less the same, and that's good because we all have an understanding. The other players have come in and are doing their jobs, so there is no reason why we can't go on from here.
"We want to be a lot more assertive in games and possibly finish teams off quicker than we did against Peterborough. Hopefully it will click and we can turn teams over on a regular basis."