Kean expecting Petrovic impact
Steve Kean believes Blackburn new-boy Radosav Petrovic can impose himself on the English top flight.
Last Updated: 19/08/11 1:31pm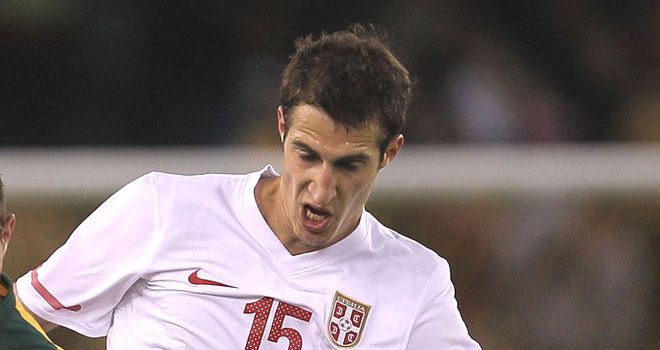 Blackburn manager Steve Kean is fully expecting new signing Radosav Petrovic to impose himself on the English top flight.
The 6ft 4in Serbia midfielder is in line to make his debut in Saturday's clash at Aston Villa after joining Rovers earlier this month from Partizan Belgrade.
Kean believes the 22-year-old will impact in all areas of the park and is confident he will demonstrate the eye for goal that brought him 17 goals in 70 games for Partizan.
The Scot said: "It's not only that we've just seen him, we've been watching him for a long, long time. I've seen him live on a number of occasions, our scouting staff have been out watching him.
"He's a presence, he's an imposing figure but he can score goals, he can switch play, he can sit in and be a defensive player but he can also be released to go box to box.
"I think he's a genuine all-round midfield player. He's a quality player and we're delighted we could get a work permit for him because I think he's going to be a big part of our squad."
Big challenge
Petrovic is aware he faces a big challenge to adjust to the demands of Premier League football but he is confident he has joined a club that can help him fulfil his ambitions in England.
He said: "I know a lot about Blackburn. In my country, for everybody the Premier League is the best league in the world and Blackburn are a very big club with a good history.
"Blackburn were champions 15 years ago and I'm very happy because I am here and the manager and everybody at the club has made me feel welcome.
"I must work hard and what is most important is that Blackburn win. I've seen some Blackburn matches from last season and I know the Premier League is much more difficult than football in Serbia. I know what I must do."
Sought opinion
Petrovic already has 19 caps and one goal for Serbia and he sought the opinion of a number of his compatriots before making the move to Blackburn.
One of those from whom he took advice was former Villa striker Savo Milosevic, who took the same path from Partizan to the Premier League in 1995 and stayed in England for three years.
"I know Savo Milosevic and I spoke with him about Aston Villa and the Premier League," said Petrovic.
"I've also spoken to Branislav Ivanovic, Nemanja Vidic, Aleksandar Kolarov and some other players who play with my national team. I know Aston Villa is a very good team and we must do everything to win."
As well as leaving his home country, Petrovic has had to pull out of the coaching course he was taking at Belgrade University, something he hopes to go back to in the future.
But the midfielder already has his sights set on a long stay at Rovers, and he added: "I'll be happy if I can stay here for 10 or 15 years. It's a very big club. I've spoken with Morten Gamst Pedersen, he's played here for eight years and he's very happy."