Samaras has Lennon's backing
Neil Lennon has urged Celtic fans to be patient with misfiring forward Georgios Samaras.
By Jamie Casey
Last Updated: 20/08/11 2:01pm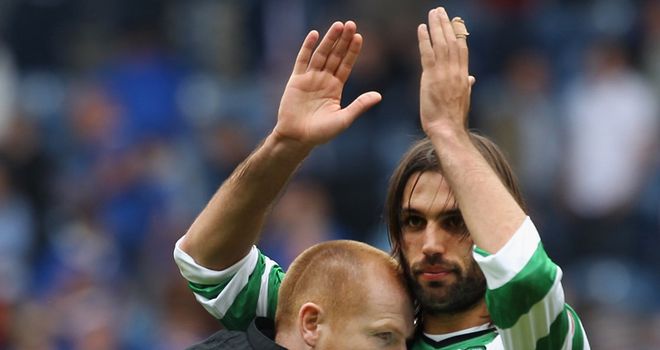 Neil Lennon has urged Celtic fans to be patient with misfiring forward Georgios Samaras and insists the Greek striker is still a big player for the club.
Samaras, 26, was booed by sections of the home support during Celtic's 0-0 draw with Swiss outfit Sion at Parkhead on Thursday amid a frustrating display.
And former Celtic skipper Lennon revealed he gave the Greece international a pep-talk at Lennoxtown, the club's training ground.
"I think he seems to be the whipping boy at the minute," he said. "I had a talk with him this morning and tried to keep him positive.
"He is a very important member of our squad and the fans will just have to show a little more patience with him.
"I understand the frustrations and so can he, but it is not one person's fault for a disappointing result.
"But sometimes players get singled out for whatever reason and it's his turn at the minute. But I think he has got the strength of character to come through that and turn it around."
Upbeat
Goalkeeper Fraser Forster, who made his second debut in the match after returning for another season-long loan deal from Newcastle, remains as upbeat as Lennon about the return game in Switzerland.
"If we go and score in Switzerland, the game will really favour us," Forster told the official Celtic website.
"We've just got to be positive about the game.
"From my point of view, it was good to keep a clean sheet but we'd have loved to have scored at least one goal to have the advantage going into next week's game.
"They came to defend, and parked the bus at times, but there are still 90 minutes to go in this tie and I fancy us to go over there and get a positive result.
"We've got a great squad and we've just got to take one chance and it will put Sion under massive pressure because they will have to score two."
Meanwhile, Lennon revealed that his bid to bring in Cameroon international Mo Idrissou is "dead in the water" but was positive about the new contract skipper Scott Brown claims he is moving closer to signing.
"He is an important player, very influential," said Lennon. "He didn't have his greatest game last night but the ankle injury had flared up.
"But his quality has improved in the last year and when he doesn't play we miss him."