Phillips reveals Brighton chat
Kevin Phillips admits he discussed a move to Brighton after earning the plaudits with his brace in Blackpool's 2-2 draw.
Last Updated: 20/08/11 7:08pm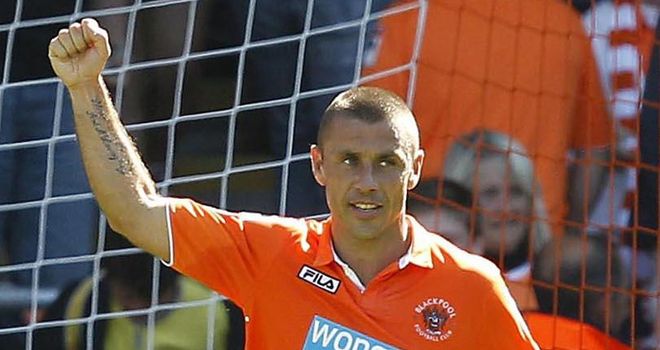 Kevin Phillips admits he discussed a move to Brighton & Hove Albion after the striker earned the plaudits with his brace in Blackpool's 2-2 draw at the AMEX Stadium.
The veteran striker left Birmingham City at the end of last season and eventually opted for a deal with fellow relegated side Blackpool.
He has quickly settled into his new club and proved to be the scourge of one of his suitors by scoring twice as Blackpool came from 2-0 down to salvage a point.
"I had a good chat with Gus Poyet but signing for Blackpool meant I didn't have to relocate," said Phillips.
"I think Brighton are definitely a team on the up. There was a terrific atmosphere in a fantastic stadium and it was a competitive and hard-fought match."
Warned
Brighton manager Poyet saluted the former England international after his double ended the Seagulls' 100 per cent record in the Championship.
Poyet said: "I had warned my team about Kevin Phillips. You don't need to look at videos to know all about him.
"He keeps scoring goals. I remember playing against him for Chelsea against Sunderland when he scored a couple and here he is with two more against us."
Blackpool beat Brighton in the race to sign Phillips and Poyet believes the 37-year-old has done the right thing in continuing his career.
"We had a good chat with Kevin, but couldn't make it," said the Uruguayan. "I'm pleased he is opting to carry on playing."
Despite the two dropped points, Poyet was pleased that his side remained unbeaten with 10 points from four games.
He added: "We had opportunities to finish the game but there's no drama. We need to recover.
"A lot of people wondered before the start of the season how we would do against clubs like Cardiff and Blackpool, and a four-point return is not bad - no-one expected that."
Brighton striker Mackail-Smith had nothing but praise for opposite number Phillips, saying: "Kevin Phillips was absolutely fantastic.
Huge respect
"I used to watch him as a kid at Watford and he's always been a great finisher.
"I have huge respect for his goalscoring ability. We are very disappointed that we didn't see the game out, but we got a little complacent and that cost us the match.
"I had a great chance to put the game beyond doubt, but you have to move on and we need to make sure we're ready for Sunderland in our Carling Cup match on Tuesday night."
Phillips claimed Blackpool's comeback was so strong that they could have gone on to win the game given more time, commenting: "We felt we finished the match very well.
"Having scored two in our 2-1 home win over Peterborough the week before, this is an ideal start for me and I'm delighted I have continued my career.
"What didn't help us was a nightmare eight-and-a-half-hour trip on the coach. It was the longest I've ever been on.
"The first goal we conceded was sloppy and to go 2-0 down made it tricky, but my first goal gave us a foothold and we got the point we deserved."