Mancini aware of Nasri issue
Roberto Mancini admits it would be a 'big problem' if Samir Nasri played for Arsenal in the Champions League against Udinese.
Last Updated: 22/08/11 9:04am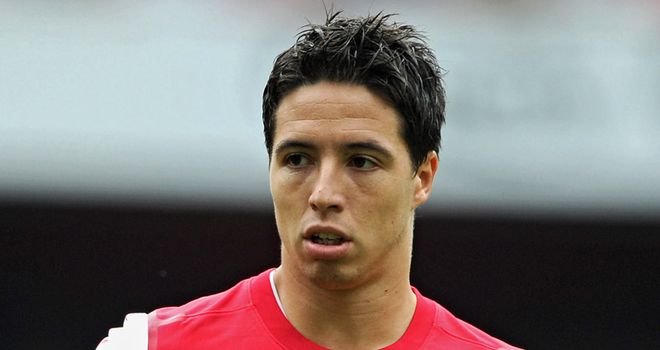 Roberto Mancini admits it would be a 'big problem' if Samir Nasri played for Arsenal in their UEFA Champions League qualifier against Udinese.
Manchester City are hoping to sign Nasri in the coming days, but Arsenal boss Arsene Wenger claimed at the weekend that a deal was 'far, far, far' from being done.
Nasri made his first appearance of the season in Saturday's 2-0 defeat by Liverpool and is in contention to feature in Wednesday's European second leg against Udinese.
If the France international plays in Italy, it would mean he would not be eligible to play for City in the group phase and Mancini acknowledged this could be an issue.
Big problem
"For 40 days I've hoped in two days, three days (it would be done), I don't know why we haven't closed it," said the City boss.
"It's a big problem (if he plays for Arsenal against Udinese) but I'm sure we can close in 24 hours, maybe 48. For Nasri it will be important he can play in all the Champions League matches."
Meanwhile, Mancini reiterated his belief that Carlos Tevez will not leave City before the transfer window closes after the Argentine made his first outing of the season as a substitute in Sunday's 3-2 win at Bolton Wanderers.
He added: "Carlos is here, I don't think the situation will change. Carlos is an important player, a top player for us and at the moment we haven't received any offers for him."
The City boss, meanwhile, dismissed the possibility of fringe players like Emmanuel Adebayor and Craig Bellamy leaving on free transfers to get them off the wage bill.
He added: "All of these players have a cost because they are good players. If there are teams that want to buy them they need to pay, like us.
"I don't understand why we pay a lot of money and other teams don't."