Gordon backing himself
Craig Gordon is backing himself to reclaim Sunderland's number one jersey when he returns to fitness.
Last Updated: 22/08/11 7:21pm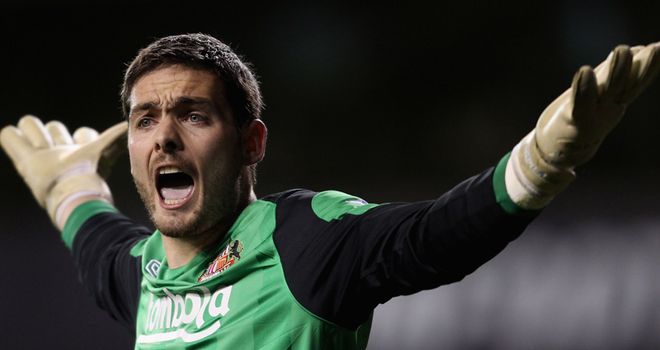 Sunderland keeper Craig Gordon is backing himself to reclaim the club's number one jersey when he returns to fitness.
The 28-year-old is battling back to fitness following knee surgery in April, having also seen his time at the Stadium of Light hampered by a previous knee problem and a broken arm.
Although Gordon is not setting a timeline for a possible comeback he remains confident in his ability to force his way back into Steve Bruce's starting XI ahead of Belgian keeper Simon Mignolet.
"I think everybody will be looking at me when I come back from injury to see what effect it's had on me," explained Gordon.
"So I'll come back and try to prove myself all over again, the same as you do when you first come into the team.
"There never seems to be any point in your career where you stop proving yourself and that is actually a bit of a motivation for me to come back and prove to everybody that I've still got it and that these injuries haven't taken any toll on me, that I can get back to doing what I was doing before and come back fitter and stronger and get back out there and play."
No talks
Gordon is out of contract at Sunderland at the end of the season but discussions over a new deal have yet to get underway and he has not held talks with boss Steve Bruce over his future.
The keeper continued: "He's not spoken to me about that. I'll just concentrate on getting myself fit and try to make it impossible for him to leave me out.
"I'll just get back and do the things I was doing when I was fully fit. If I can do that, I'm confident my abilities can get me back in the team and playing well.
"Once I get back playing, I'm confident that my abilities can get me back into the Scotland team as well."