Nasri exit saddens Wenger
Arsene Wenger is disappointed as Samir Nasri prepares to leave Arsenal, but has stopped short of accusing Man City of tapping up.
Last Updated: 24/08/11 9:53am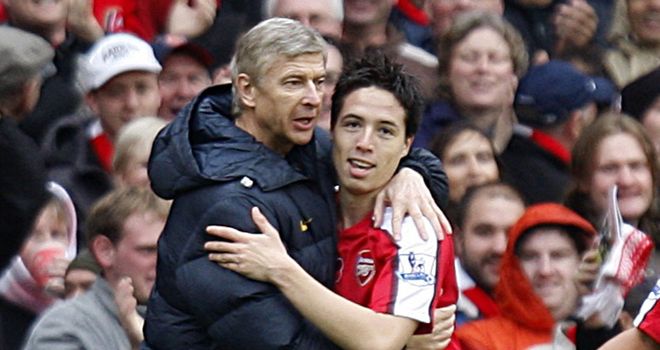 Arsene Wenger has spoken of his disappointment as Samir Nasri prepares to leave Arsenal, but stopped short of accusing Manchester City of tapping up the midfielder.
The Gunners on Tuesday confirmed an agreement had been reached with City for the transfer of contract rebel Nasri, who is expected to put the finishing touches to his move imminently.
Arsenal manager Wenger had been angered by opposite number Roberto Mancini's public declarations about Nasri, amid reports he had agreed personal terms with City some time ago.
Asked if the 24-year-old was aware of what he could earn by moving to the Manchester club, Wenger said: "Of course."
But quizzed on whether City's pursuit of Nasri amounted to tapping up ahead of the crucial UEFA Champions League play-off against Udinese, the Frenchman would only say: "Who knows?"
Wenger acknowledged it was Nasri's refusal to extend a contract that expired next summer which ultimately forced Arsenal's hand, just as captain Cesc Fabregas' desire to rejoin Barcelona had done last week.
"We did not want to lose Fabregas, but we were forced into a situation we didn't want," Wenger said.
"Nasri is a situation where the player didn't want to extend his contract with the proposals he had somewhere else."
Commitment
Wenger accepts he cannot expect players to be as committed to Arsenal as himself.
"I am a realist so I have no illusions about that," he said. "But I think it's part of the modern life of a professional player. It's not by coincidence that suddenly everybody lands at Manchester City.
"I don't question Samir Nasri's commitment or professionalism because he was in training this (Tuesday) morning.
"If I told him, 'You come with us and play', he would have played like he did on Saturday but you wonder what kind of a commitment you can have."
Wenger's lack of big-name signings this summer has also proved a source of frustration for fans, who are desperate for the club to end a six-year trophy drought.
Valencia winger Juan Mata had been a transfer target earlier in the summer, but he is now on the verge of joining Chelsea and has said he feels he has more chance of winning silverware at Stamford Bridge.
But Wenger has indicated financial reasons may have swayed Mata's decision as much as ambition, saying: "He doesn't necessarily tell you the truth."