Rodgers coy on transfers
Swansea City manager Brendan Rodgers has revealed that goalkeeper Gerhard Tremmel is on the verge of signing a contract.
Last Updated: 25/08/11 8:11pm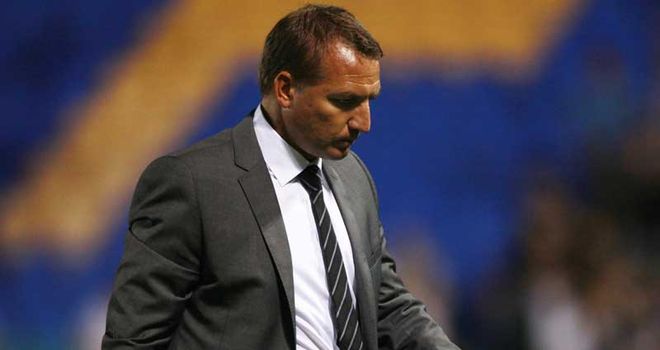 Swansea City manager Brendan Rodgers has revealed that goalkeeper Gerhard Tremmel is on the verge of signing a contract with them but refuses to divulge about any other potential recruits.
Tremmel has been on a trial with the Swans and having impressed in pre-season friendly matches against Celtic and Real Betis, is on course to being rewarded with a contract.
Speaking on landing the 32-year-old, Rodgers told reporters on Thursday: "Gerhard has had his medical, he has gone through a lengthy trial period with us and he will be a terrific support 'keeper.
"I was desperate to get David Cornell out on loan, and thankfully we have now done that.
"We have our number one keeper in Michel Vorm, who has proved to be fantastic signing, and we will have two back-up keepers, hopefully Gerhard and Jose Moreira.
"Hopefully we can get a deal for Gerhard tied up in the next day or so."
Going down to the wire
However, the Swansea boss refused to elaborate on any other signings he is contemplating to make between now and the end of the transfer window.
"There are various targets we are looking at but like most clubs it will go down to the wire and we will see what we can do," he stated.
"We look to get our work done as early as we can and I know there is a great excitement for many people.
"But we will do our work behind the scenes, the chairman and I communicate a lot and if we feel we can get something done to improve the group, we will do that, if not we will go with what we have got and I will be more than happy."
Bodde
Rodgers also revealed that Dutch midfielder Ferrie Bodde, who has been bedevilled by knee injuries in recent seasons, has had a spell in Holland after experiencing some discomfort in his recovery from his most recent problem.
He said: "Ferrie had to go back to Holland, he had a little niggle in his knee, he went for a scan and he is feeling more confident now.
"He had a little work done over there and he needs to rest for three or four days before he comes back to us.
"I didn't want to rush him and I want to give him every chance to complete his recovery so he went back to the specialist who did his operation."
Swansea have made a disappointing start to the 2011/12 campaign, losing 4-0 to Manchester City in their opening game of the Premier League season and then drawing 0-0 with Wigan Athletic last weekend.
On Tuesday Rodgers' side lost 3-1 to Shrewsbury Town away from home in the Carling Cup.