Emerton backs Rovers to stay up
Brett Emerton is confident Blackburn will overcome their poor start to the Premier League after his last game in a Rovers shirt ended in defeat
By Jessica Miller
Last Updated: 28/08/11 4:45pm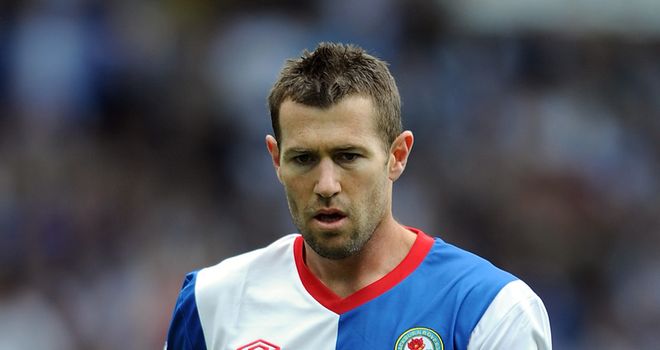 Brett Emerton is confident Blackburn will overcome their poor start to the Premier League after his last game in a Rovers shirt ended in defeat
Rovers are without a point this season but the departing midfielder is confident they can avoid relegation.
Blackburn wasted a glorious chance to get off the mark missing two penalties and slipping to a 1-0 defeat to Everton on Saturday.
Junior Hoilett and Mauro Formica both failed to convert penalties and they were made to pay when Mikel Arteta coolly slotted home an injury-time spot kick.
It was a bitter end to a match which had begun as a celebration as Brett Emerton was made captain for his swansong appearance.
The Australian International announced in midweek he was returning home to join Sydney FC for 'family reasons'.
He ends an eight-year stay playing top flight football at Ewood Park and while Steve Kean has admitted his departure is a big loss after he played a key role in keeping the club up last campaign, the Australian is confident they will stay up.
He said: "It's important to get off to a good start in the Premier League and we've been unable to do that, but there have been encouraging signs this week.
"We got a win [in the Carling Cup] against Sheffield Wednesday in midweek and we controlled the game in the second half before their penalty, which in my view was never a penalty.
"That's football. When you're having a bad run everything seems to go against you."
Encouraging
The Australian is hopeful Blackburn will improve, saying: "The players have to take positives from the game, keep their heads up and hopefully the points will come in the future.
"We have some players coming back now. Chris Samba and Gael Givet are back in defence and they're more solid at the back - with them we have a team that will start winning Premier League games.
"I think we have a strong group of characters and they'll stick together. They can get themselves out of it," he said.
Farewell
Emerton has already left for Australia to meet up with his national team ahead of their World Cup qualifying campaign but will return next week to bid his farewells.
The departing Rovers player thanked the fans for the send off he received on Saturday, saying: "They were outstanding. I couldn't ask for anything more. It's been a fantastic eight years and apart from the result it was a fantastic way to leave my career here."
He added: "It was an honour to captain the team. I think that was a nice touch by the manager to enable me to do that, so I thank him for that."