Fielding 'honoured' by call-up
Derby keeper Frank Fielding feels 'honoured' to have been called up to the England squad for their impending qualifiers.
Last Updated: 30/08/11 12:47pm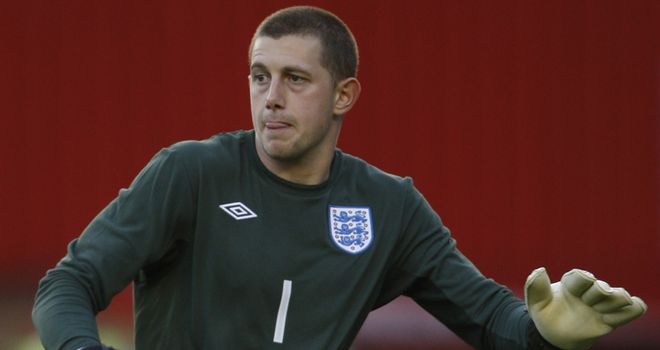 Derby goalkeeper Frank Fielding says he feels 'honoured and privileged' to have been called up to the England squad for their impending Euro 2012 qualifiers.
The 23-year-old was drafted into Fabio Capello's party on Tuesday after West Ham shot-stopper Robert Green was forced to pull out of the line-up with a finger injury.
Fielding, who has never been capped at senior level for England, is in the squad that will take on Bulgaria away on Friday and Wales at home next Tuesday.
Honoured
He joins regular No.1 Joe Hart and Fulham keeper David Stockdale in Capello's line-up and is keen to make the most of the experience.
"I'm honoured and very privileged to have been called up to the England squad," Fielding told Derby's official website.
"I was a bit surprised when I heard the news, as I wasn't really expecting it.
"It does take a while to sink in, but luckily I have previous experience of being in the senior squad so it won't be all new to me and there will be a few familiar faces knocking around too I am sure.
"I suppose it is a step up for me as well, as when I was in the squad before it was for a friendly and this time it is for a European Championships qualifier, so there's a lot at stake and hopefully I can work closely with the other goalkeepers and help England get two important results.
"I am sure I will learn from the experience and it is a great thing for Derby County as well."
Fielding is adamant the England call-up will not make him complacent when he returns to domestic competition with Derby.
Hard work
"There's no way I'll be getting ahead of myself just because of this call-up," he added.
"I know I have a lot of hard work to do to keep hold of my place at Derby and continue to help the team be successful.
"I have to thank (manager) Nigel Clough and the club for giving me the opportunity to play on a regular basis, as this is the first time in my career I've begun a season as the No.1 goalkeeper.
"I'm pleased for the club, as it is a big thing for them to have a player in the England squad."