Lescott tips Dzeko to shine
Joleon Lescott expects Edin Dzeko to prove a deadly threat for Man City this season after regaining confidence in his ability.
Last Updated: 31/08/11 10:31am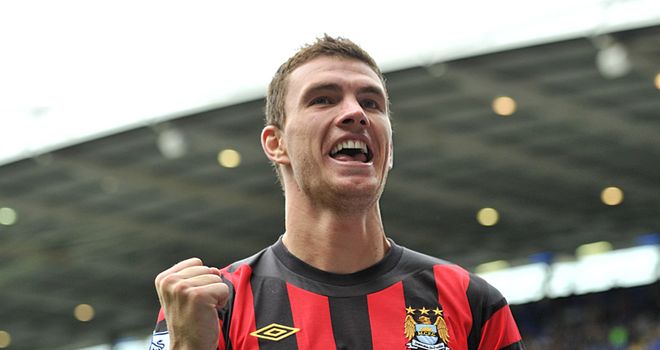 Joleon Lescott expects striker Edin Dzeko to prove a deadly threat for Manchester City this season after regaining confidence in his ability.
The Bosnian struggled to make an impact at City in the second half of last season following his £27million move from Wolfsburg in January.
But Dzeko has finally hit his stride this term, netting six goals already, including four in Sunday's 5-1 thumping of Tottenham at White Hart Lane.
Form
City team-mate Lescott believes it was only a matter of time before Dzeko started showing his current form.
The England defender, currently preparing for Friday's Euro 2012 qualifier in Bulgaria, said: "What he's doing now is probably no surprise to Roberto, as it isn't to us.
"Speaking with Edin last season, he said it was hard coming in mid-season.
"He's now getting the rewards and he's scoring goals and it's been quite similar to me when I first came to City.
"Edin wasn't playing as much as he would have liked and the focus was on Carlos Tevez, and rightly so.
"I'm sure now Edin is not taking it for granted but he knows what he can do - and he's doing it now."
Threat
Lescott added: "I think it's down to belief more than anything else. Obviously he's worked hard, and I know how hard he's worked.
"But he's come back this pre-season and he just believes in his ability now.
"He can be one of the best strikers and top scorers in England this season. Definitely.
"If you look at the goals he's scored, it's every type. He poses a different threat to most strikers.
"Most strikers are smaller and agile, but he's tall, big and agile, so it's a nice attribute to have."