Whelan - No to gung-ho
Glenn Whelan believes Republic of Ireland must not approach their crucial clash with Slovakia in a gung-ho manner.
Last Updated: 31/08/11 4:52pm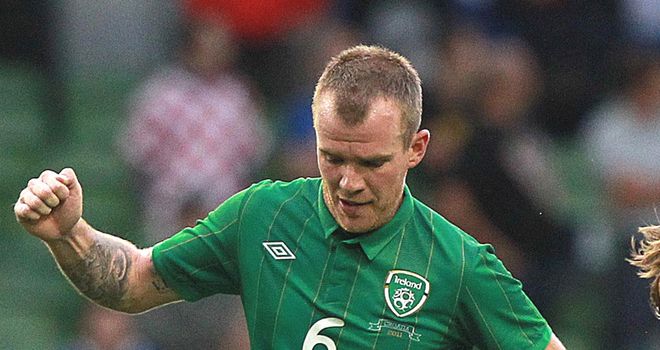 Glenn Whelan believes Republic of Ireland must not approach their crucial clash with Slovakia in a gung-ho manner.
Ireland currently sit joint top of Euro 2012 Group B level on 13 points with Russia and Slovakia.
The next few days will see the qualification picture develop substantially, with Giovanni Trapattoni's men first facing the Slovakians in Dublin on Friday night before clashing with Russia in Moscow on Tuesday.
While Whelan acknowledges Trapattoni's side will be looking to beat Slovakia, he insists they will not be throwing caution to the wind.
He said: "You don't want to be gung-ho and 2-0, 3-0 down after 10, 15 minutes.
"We have to go into the game the way we have done before, hard to beat, and then hopefully we can get a few goals ourselves.
"But we know we need to win if we want to get out of the group. We are trying to get three points.
"With the manager we have got, I don't think he has ever put us into a game going out for a draw. We have always gone out to win, and hopefully we can do that on Friday."
Missed opportunity
In their previous clashes against the same opponents, Trapattoni's side lost 3-2 to Russia in Dublin in October before drawing 1-1 in Slovakia four days later when skipper Robbie Keane passed up an opportunity to clinch all three points when he missed a penalty.
Whelan added: "They (Slovakia) are a good side. On the night when you look at it, we were a little bit disappointed only coming away with a point.
"If Robbie (Keane) puts the penalty away, it's a different game, but especially after the result we had had a few nights before against Russia, it was a big improvement, a big performance that we needed to put in to stay involved in this group."
Ireland head into Friday's clash on the back of a five-game unbeaten run which includes four victories, one of them over former World champions Italy in Liege, Belgium, at the end of last season.
Whelan added: "Like I say, we were disappointed coming away with only a point. But the way we have done over the last five, six games - we have done really well.
"We are unbeaten, we haven't conceded many goals, and that gives you confidence. You are going into the games knowing what you have come off the back of results-wise.
"But the manager has always been confident in what we can do and he never changes. I just think it's a confidence thing now, that we know we can go into any game and hopefully win it no matter who we are playing against."