Inactivity frustrates Grayson
Simon Grayson has vented his frustration at being unable to bring any fresh faces to Leeds on deadline day.
Last Updated: 02/09/11 12:46pm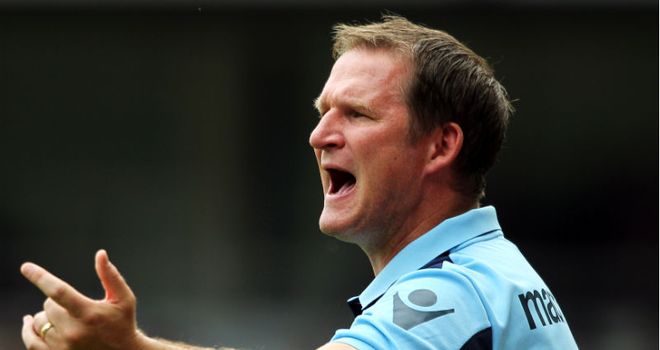 Leeds United manager Simon Grayson has vented his frustration at being unable to bring any fresh faces to the club on deadline day.
There were plenty of outgoings on Wednesday with Max Gradel joining St Etienne while Federico Bessone and Mike Grella had the remainder of their contracts cancelled.
The Whites tactician has revealed the club had lined up no less than three deals during the day to strengthen his squad only to see none of the players make the Elland Road switch.
Grayson believed the club had agreed a deal to land Jason Puncheon from Southampton only to see the winger make a last-gasp move to newly-promoted QPR.
The club also lined up moves for two international players, however, neither deal materialised due to various reasons.
Frustration
"It was probably the most frustrating day I have had as a manager," Grayson told the club's official website.
"From the early hours of the morning right up to the last few hours before the window shut I was behind my desk on the phone trying to bring in more players. Just after dinner we had three deals almost done and dusted.
"All the players needed to do was sign but different circumstances didn't make the deals happen which is the most frustrating part.
"Jason Puncheon agreed to sign for us (on Wednesday) dinner time and changed his mind for whatever reason. That reason obviously turned out to be to go to QPR.
"We also agreed for another Premier League international defender to come here as another defender was going to their club so was surplus to requirements. That then got changed as the player went somewhere else hence the player then decided that he felt he still had an opportunity to play for the Premier League club.
"Another one was an international player, again the deal was virtually done but the club, at the last minute, changed their mind as another deal of theirs fell through."
Money
Grayson admits money was there for him to spend on strengthening the squad, although he is not getting too down as he knows he can bring in new faces when the loan window opens next week.
"The money was there to go and sign players, whether it was loan deals or permanent deals we were trying to sign players to make us better and increase the competition," he continued.
"We know we are still a few bodies short but saying that we still have good players here, some of which were enquired about but we managed to keep hold of them, something which is obviously good news.
"It was a bad day at the office as we were working extremely hard to get in the targets that we had. A plus side, to a certain degree, is that the loan market with emergency loans opens next week so if we are short on bodies still then we can go down that market."