Feeney - Blame the players
Warren Feeney believes the players should take the responsibility for their loss to Serbia and not boss Nigel Worthington.
Last Updated: 04/09/11 6:05pm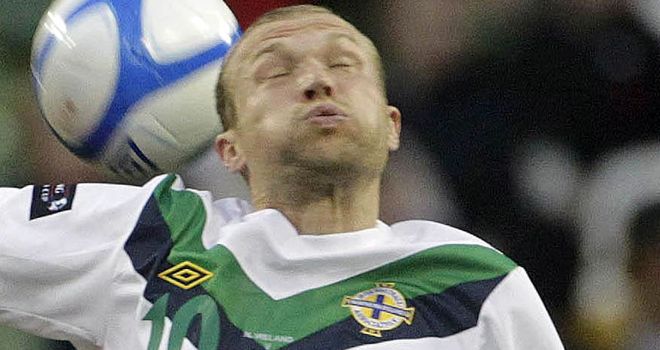 Northern Ireland striker Warren Feeney believes the players should take the responsibility for their loss to Serbia on Friday and not manager Nigel Worthington.
A disgruntled fan threw his replica shirt in the direction of Worthington during the 1-0 defeat, which dealt a huge blow to Northern Ireland's chances of qualifying for next summer's European Championships.
Steven Davis' stray back-pass gifted the visitors the only goal of the game at Windsor Park, which leaves Northern Ireland in fifth place in Group C.
However, such is the tight nature of the group they can still finish second and secure a play-off place, though they would have to rely on other results as well as their own.
Blame
Feeney was keen to cling to that hope while also shielding his manager from some of the blame for his side's display on Friday.
"The criticism shouldn't be heaped on Nigel. He's the manager and he picks the team but we are the ones who cross the white line," said the Plymouth striker.
"I saw the fan [who threw the shirt] when I was warming up and it's not nice.
"If he wants to come and meet the players and vent his frustration at us then he can do that.
"It's difficult because fans pay good money and want good performance but I can guarantee we go out and try our best.
"We're as frustrated as they are. I know because I used to go and watch Northern Ireland as a boy myself."
Feeney admits that the players are aware of some of the media criticism following Friday's result but has urged his team-mates to put it behind them and focus on getting a result against Estonia on Tuesday.
Negativity
"There's been a wee bit of negativity in the papers," added the 30-year-old.
"Everyone has an opinion and it's easy to criticise. I'm not one who takes it in but some of the young ones coming into the squad maybe do. It does get talked about, I'm not going to lie.
"But it's gone now. We'll pick ourselves up and try to put it right.
"We're still in it. We have to pick ourselves up for the next one and if we get the result everything will change for us."