O'Dea keeps faith in Keane
Darren O'Dea is confident of Robbie Keane scoring in Russia if he gets the kind of chance he passed up against Slovakia
Last Updated: 04/09/11 10:43pm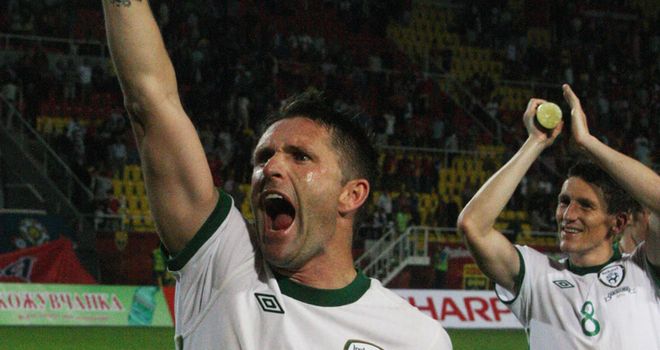 Darren O'Dea says he would put his house on Republic of Ireland team-mate Robbie Keane scoring in Russia if he gets the kind of chance he passed up against Slovakia
The 31-year-old Los Angeles Galaxy frontman, who went into Friday night's game at the Aviva Stadium having scored 51 goals in his previous 109 appearances for Ireland, squandered a golden opportunity to make it 52 when he completely mistimed a 74th-minute header from just five yards out.
Keane's personal disappointment was shared by the nation as the Republic were held to a frustrating 0-0 Euro 2012 qualifier draw which sends them to Moscow on Tuesday night two points adrift of their hosts at the top of Group B, and with their hopes of automatic qualification seemingly hanging on the result at the Luzhniki Stadium.
However O'Dea, who is almost certain to join his captain in the starting line-up with Sean St Ledger suspended and John O'Shea injured, is confident Keane will need no second invitation if he is handed the chance to atone for a rare miss.
Strange
He said: "It's strange how things change. Robbie is never going to be touched as a goalscorer, I would say for the rest of time, and that's testament to how good he has been as a goalscorer and a player.
"I suppose I have seen enough to understand it, but it's a bit strange how much press it gets. It's one chance, it's not quite happened for him, but we get on with it.
"He's probably our most important player and he's done it down the years.
"I would put my house on him that if he gets even half that chance, he will stick it away."
Ireland misfired badly against the Slovakians in a game they had approached as a must-win affair, and while they had more than one chance to win it in a late flurry, the visitors deserved at least a point.
However, manager Giovanni Trapattoni and his players have been quick to seize upon the positives, one of which was a record sixth successive clean sheet.
Typical
O'Dea said: "I suppose it's typical - you go on a five-game streak and don't concede any goals and everyone tells you you are brilliant, and then you draw with a very good team at home and everything is doom and gloom again.
"But we are certainly not like that. We are disappointed that we didn't win the game, but we are certainly not down ourselves.
"We have got a very good chance to go there and get a positive result on Tuesday."
Given the group standings, only victory in Russia would send the Republic into their final two qualifiers confident they could top the table at the end of the campaign, although O'Dea is convinced there will be further twists and turns.
He said: "If we didn't win, I don't think the group is over, but certainly a win would help."