Hubnik - I was lucky
Roman Hubnik has conceded he was lucky not to concede a last-gasp penalty in Czech Republic's 2-2 draw with Scotland.
Last Updated: 05/09/11 9:05am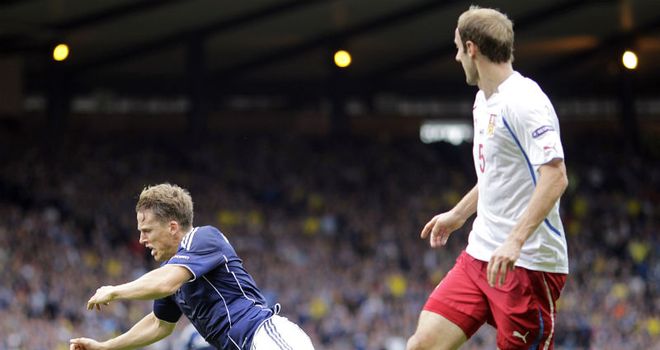 Czech Republic defender Roman Hubnik has conceded he was lucky not to concede a last-gasp penalty in their 2-2 weekend Euro 2012 qualifying draw with Scotland.
Shortly after Michal Kadlec converted from the penalty spot the home side were denied a spot-kick of their own when Christophe Berra went down under a challenge from Hubnik.
Much to Scotland's surprise Dutch referee Kevin Blom did not award the penalty, although Hubnik has conceded that he did in fact make contact with the Wolves defender.
The Hertha Berlin star was thankful Blom failed to point to the penalty spot, stating it was a lucky decision.
Contact
"There was contact. I saw it on video - but it seemed to me at the time he bumped into my left foot," commented Hubnik.
"It ended well for us because if the ref had given a penalty, we could not have complained.
"From one angle it looked more like a penalty, the second less so. It's hard to say.
"It was the 90th minute and if I went to go into the challenge at 100 per cent then it would have been a clear penalty but I didn't commit to the challenge fully. Fortunately, the ref didn't give it.
"The two penalty incidents were difficult calls. It was good for us that he gave one and good for us that he didn't give the second one. Luckily the ref's decision is final."
Chances
Meanwhile, Kadlec insists his successful penalty at Hampden Park has finished off Scotland's chances of qualifying for Euro 2012 next summer.
"Scotland's chances have gone," explained Kadlec. "If we'd lost it wouldn't have been good for us, but we're still five points ahead and can finish in the play-off spot.
"I got the goal but it was for the whole team because we fought back superbly after twice going behind.
"I don't know why the ref gave one penalty and not the other, but we can't do anything about that. The result was a good one for us."