Cahill - England the pinnacle
Gary Cahill has ambitions to take part in the Champions League, even if he regards playing for England as the greatest achievement in football.
Last Updated: 05/09/11 11:54am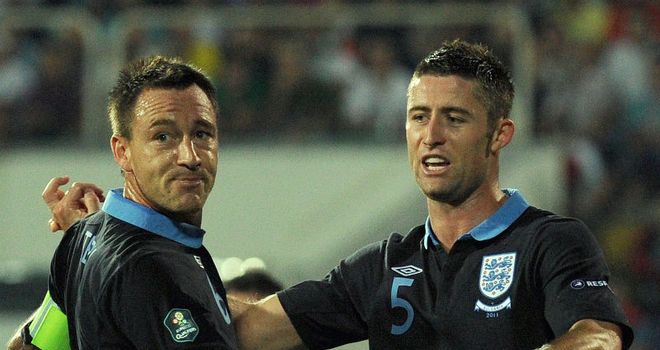 Gary Cahill has declared that he has ambitions to take part in the UEFA Champions League, even if he regards playing for England as the greatest achievement in football.
Cahill was linked with a move during the summer transfer window but nothing materialised and he is now staying focused on performing as well as he can for Bolton.
Playing for the Trotters has not prevented the defender from gaining international recognition, and Cahill scored for England in Friday's Euro 2012 qualifier against Bulgaria.
He accepts that playing in major European competitions at club level would boost his chances of staying in the national team, while Champions League football is something he would like to experience one day.
However, Cahill insists it is playing for England that he has always dreamed of, and he is proud to now be an established member of the squad.
"From any professional footballer's point of view, you strive to play in the Champions League or in Europe. You strive to be at the top of your profession," he admitted.
"Generally, when players are playing Champions League football and you are not, the experience they have over you can count.
"But I'm not playing there at the moment and I'm still getting my opportunities, touch wood.
"Playing for England is the pinnacle. As a young English player coming through, playing for your country is the highest honour you can get.
"It gives you immense pride to pull on the shirt and I'm enjoying every minute."
Terry partnership
Cahill hopes he has convinced Fabio Capello he should remain in the side for Tuesday's Wembley clash with Wales.
He liked playing alongside skipper John Terry in Sofia and is determined to remain in the team even when Rio Ferdinand returns to full fitness.
He said: "It seemed to work well (alongside Terry). There was good communication and JT is a big talker and so is Joe Hart behind you. It really helps.
"John plays left side for his club and I play right side and I think it fitted really nicely and I enjoyed it.
"Playing with one of the best defenders in world football is going to bring on your game a lot and you are going to learn a lot."
Cahill added: "I want to stay in the side. There's no doubt about the quality of Rio, he is an unbelievable player.
"But, if you take your chance and play well, then hopefully you'll stay in any team, although there's no doubting the quality in the squad.
"There's a lot of competition for places which bodes well."