Trapattoni playing to win
Republic of Ireland manager Giovanni Trapattoni has insisted he will send his team out in Russia with the intention of winning three points.
Last Updated: 05/09/11 5:14pm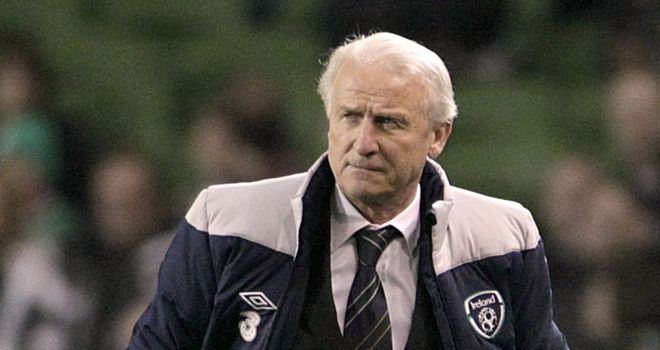 Republic of Ireland manager Giovanni Trapattoni has insisted he will send his team out in Russia with the intention of winning three points.
Trapattoni has been criticised during his reign as Ireland boss for adopting a conservative approach and grinding out results - something he has achieved with impressive regularity.
However, the Republic's lack of an expansive game-plan, particularly at the Aviva Stadium, has at times not gone down well, and they were unable to break down a well-organised Slovakia team in Dublin on Friday night.
A victory at Moscow's Luzhniki Stadium on Tuesday would put Ireland in pole position to qualify for Euro 2012 from qualifying Group B, and Trapattoni maintains that will be the target.
He said: "Every game, we go on to the pitch to win.
"If I only had what you call a defensive attitude, I wouldn't have achieved what I have achieved in 25 or 30 years as a coach.
"It's a simple philosophy: score more goals and concede fewer. That's my life.
"Our team has proved to be very well organised and when you consider what we have done up until now, if we can play with the same organisation and the same spirit, it is possible to win here in Russia.
"We are very conscious that we are playing against a strong team, a team with very good individual players who play in England and Germany and with the best Russian teams.
"But we have the same experience. We are divided by two points and a victory for us would mean that we go to the top of the table.
"Obviously, we are going to play to win, but getting a positive result is important."
O'Dea praise
If Ireland are to win in Moscow for the first time, they will have to do so without a number of key players with Sean St Ledger suspended and Kevin Kilbane, John O'Shea and Shane Long all having been left behind injured.
Skipper Robbie Keane and central defender Richard Dunne have also been nursed through training in the last few days, but both will start.
There are places too for Celtic defender Darren O'Dea, who is currently on loan at Leeds, and Fulham full-back Stephen Kelly, with the pair taking St Ledger and O'Shea's places in the back four.
O'Dea, 24, will be winning his 11th senior cap, but has shown his manager enough, particularly in June's friendly victory over Italy in Liege, to be trusted.
Trapattoni said: "You saw the game against Italy? He and Sean St Ledger were the best defenders.
"I like him. His mentality is strong and he is good in the air, so I am confident about him."
Kelly's height is a factor in his selection ahead of Wolves' Kevin Foley.
Asked why he had opted for Kelly, who celebrates his 28th birthday on Tuesday, Trapattoni said: "They are a tall team and, like Slovakia, they are very dangerous in the air."
Russia are currently two points clear of both Ireland and Slovakia at the top of Group B, with three games remaining for each team.