Gosling over 'doom & gloom'
Newcastle midfielder Dan Gosling is pleased to be back after a "doom and gloom year".
By Nick Hext
Last Updated: 06/09/11 8:50am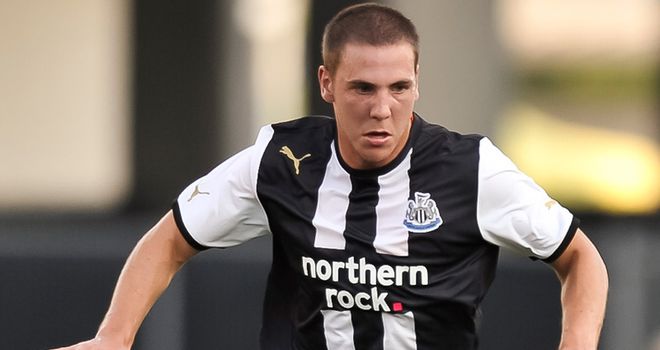 Newcastle midfielder Dan Gosling is pleased to be back after a "doom and gloom year".
The 21-year-old only featured in one game for the Magpies last season - the 1-1 draw with rivals Sunderland in January - but he has now returned to action and played for the England Under 21s as they beat Israel 4-1 on Monday night.
The former Everton man admitted the last 12 months have been difficult for him after suffering a serious cruciate knee injury.
Doom and gloom
"It was a doom and gloom year," Gosling told Sportinglife.com when asked about his problems with a serious knee injury.
"My friends and family kept me going and I've had a few fallings out with the physios.
"You have to get your head round it and as soon I did that it was a lot of hard work in the gym.
"Now I've made it back and hopefully fingers crossed I can keep injury free and get as many games as I can."
Gosling praised the performance of the England Under 21s in the second half of their victory at Barnsley as they battled back from 1-0 down to post a convincing success.
He added: "It was very nice to get a start and obviously the win as well capped off a good end to the week.
"We were disappointed with the first half. At half-time we all came in and I think the tempo was too slow so the second half we've come out of the blocks; passed the ball quickly and they couldn't live with us."
Inspiration
Gosling says his team-mates in the Under 21 squad take inspiration from the success of the likes of Phil Jones and Tom Cleverley as they push for a call to the full England squad.
"Mr Capello's considering the Under 21s and he watches us closely," said Gosling.
"You see all the lads pushing on and you think you want to be there as well.
"Hopefully if you're in good form for your club then who knows?"