Earnshaw to get over miss
Wales striker Robert Earnshaw insists that he will get over his horror miss at Wembley.
Last Updated: 07/09/11 11:59am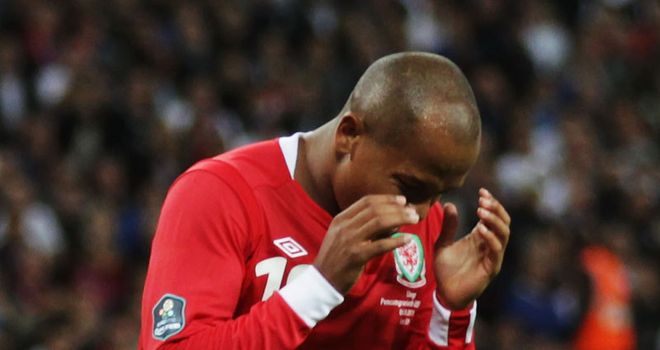 Wales striker Robert Earnshaw insists that he will get over his horror miss at Wembley.
The Cardiff City strike missed a gilt-edged chance for his country with just 14 minutes left of their 1-0 defeat to England.
Whilst Earnshaw knows he could very well have earned his country a memorable draw, he insists he needs to quickly get over his nightmare moment.
"It's just one of those things, you just have to think 'at least I was there to miss it'," he said on Sky Sports News.
"Nine times out of 10 I would have tucked it away. You have to pick your head up and carry on.
"I'm glad I got that chance and I would take it again every single day."
When asked if he would dwell on the miss, he added: "For a few days, I am one of those that have nightmares and everything like that.
"It's one of those things where I think I have to be there to miss them. If I am there then the next one will go in."
Proud
Even though his miss cost Wales, Earnshaw insists that they can be proud of their performance.
"For me personally, I am devastated and to say the least I am p***** off," Earnshaw said.
"I know I should have scored and my team-mates know I should have scored, I should have equalised and I am disappointed. I am not one of those to hide. I should have scored, simple as that.
"I am annoyed, but the manager and everyone has been saying in the changing room it's nothing to worry about and the bigger picture is that we had chances (to get a draw at Wembley).
"That's great and we have taken five or six steps forward as a team.
"It is an ongoing thing and we have another year or so to get better before the World Cup qualifiers, so for us to lose narrowly to England - and in the second half we edged it - it's a big thing for us."