McLeish hails dynamic Jenas
Alex McLeish has backed Jermaine Jenas to make up for lost time after joining Aston Villa on a season-long loan deal.
Last Updated: 08/09/11 10:03am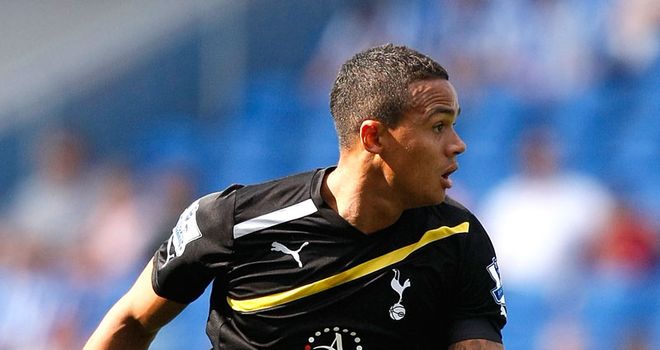 Alex McLeish has backed Jermaine Jenas to make up for lost time after joining Aston Villa on a season-long loan deal.
The midfielder arrived from Tottenham on deadline day after a frustrating 2010/11 campaign at White Hart Lane when he fell down the pecking order under Harry Redknapp.
McLeish has already heard positive reviews about Jenas' energy in training and expects him to go on and play a key role for Villa this term.
The Scottish tactician has also indicated that he believes the 28-year-old is capable of adding to his 21 England caps.
"Jermaine Jenas is a dynamic midfielder," McLeish said in the Daily Mirror.
"Jermaine's career has stagnated over the last year or so. But speaking to some of his Tottenham team-mates I met on holiday and about, they can't believe why he is still not playing for England.
"That tells you a little bit about the player himself and I am sure Jermaine wants to catch up for lost time.
"The evidence is there of good players who you have seen what they have done it in the past, it means they have it in their locker.
"It is about unleashing that again. The guys have already told me Jermaine was electric in his first training session, he looks really hungry and determined to make a name for himself at Aston Villa."
Hutton praise
McLeish also brought in Alan Hutton from Tottenham on a permanent deal after letting Luke Young join Queens Park Rangers and offloading January recruit Jean Makoun to Olympiakos.
He is satisfied with his squad and is particularly pleased to be reunited with Hutton, having managed the right-back at Rangers and with Scotland.
"I feel we have done a good bit of business. We did lose two experienced players you don't want to lose sometimes but I feel the two new lads will help to enhance the squad," said McLeish.
"Luke Young was a terrific player and Jean Makoun will feel he didn't quite get the time to cement himself in the colours but I feel the two that have come in will add a real vibrance to the squad."
"Alan Hutton I had at Rangers as a kid. I always felt in the first year or so when he was adjusting at Rangers that he played within himself a little bit and then all of a sudden he showed his athleticism up and down the flanks.
"He had a fantastic season and for me to see Alan Hutton careering down the flank is a great sight.
"He has been at some big clubs when you consider Rangers and Spurs. Now he comes to Aston Villa which is a huge club for him and I am looking for him to take his career even further forward."