O'Shea retains football hunger
John O'Shea insists he remains as ambitious as ever despite joining Sunderland from Manchester United in the summer.
Last Updated: 08/09/11 7:11pm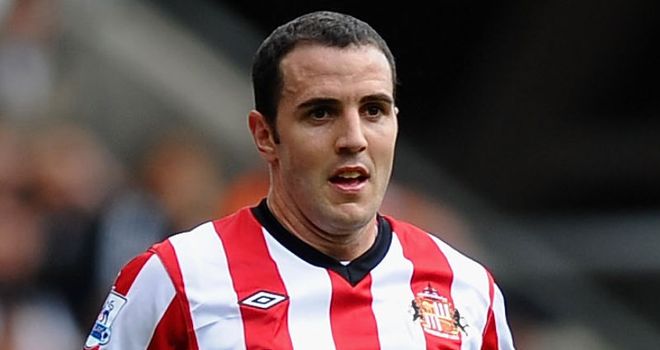 John O'Shea insists that he remains as ambitious as ever despite joining Sunderland from Manchester United in the summer.
The defender was on United's books for the last 13 years and won a plethora of trophies, including the Premier League five times and the UEFA Champions League once.
At Sunderland things are different, with the Black Cats aiming to better their 10th-place finish in the Premier League last season rather than challenge for silverware.
However, O'Shea maintains that his hunger for winning matches remains insatiable and said: "That's definitely not going to be the case from my point of view, going on Easy Street after being so successful through my career. Something like that wouldn't even enter my mind.
Progress
"The club wants to build with slow, steady progress, and if we can do that improving on the finish in the league last season and hopefully getting further in the cups, that will be the case and we will keep on improving."
He continued: "I had been at United my whole career and I had always said the manager (Sir Alex Ferguson) would decide when my time was up at Old Trafford.
"He just spoke to me about maybe he wouldn't be able to promise me as many games as he had done in the seasons gone by.
"I had just turned 30 as well, so it was time to get playing week in and week out and come to a fantastic club like Sunderland, so all the ingredients felt right."
The Republic of Ireland international's start to his Sunderland career, though, has been less than auspicious as he damaged a hamstring in pre-season and spent five weeks on the sidelines.
O'Shea eventually made his Premier League debut for his new club against Swansea City at the Liberty Stadium but will sit out their home clash with Chelsea on Saturday after picking up calf and hip problems while on international duty.
Frustrating
"That's the frustrating part," sighed the Irishman.
"That's when you see the best of all footballers after they have had pre-season when they play five, six, seven games and you get the confidence flowing and you feel strong.
"You go into games and you are looking forward to it, so fingers crossed it will be sooner rather than later that that happens."
Steve Bruce's Sunderland are currently 13th in the table with just two points from three matches.