Nasri fit to face Wigan
Samir Nasri is fit to play for Manchester City against Wigan on Saturday and Owen Hargreaves could play in a fortnight.
By Ben Collins
Last Updated: 09/09/11 12:17pm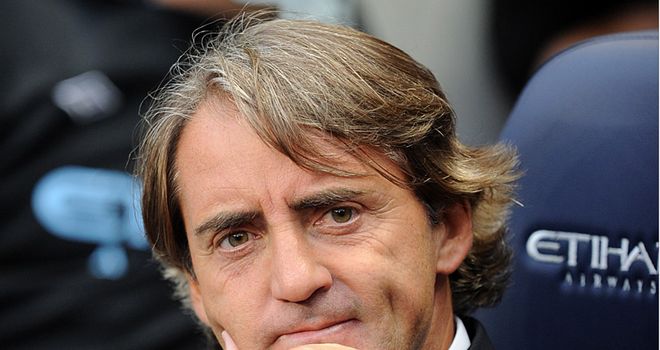 Manchester City manager Roberto Mancini has confirmed that Samir Nasri is fit to face Wigan on Saturday and he believes that injury-plagued midfielder Owen Hargreaves could be in contention in a fortnight.
New signing Nasri broke a bone in his hand playing for France this week but he is set to remain in City's starting line-up after an impressive debut in the 5-1 win at Tottenham last time out.
And, although Mancini revealed that Gareth Barry (ankle) is doubtful, Nigel de Jong (foot) is back in contention after two games out while Micah Richards (hamstring) should be fit despite returning from international duty with England.
"For Nasri, it's not a problem because he's not a keeper," Mancini told Sky Sports News.
"Gareth has a little problem. I want to see tomorrow but it's difficult. Nigel can play and Micah is okay."
Mancini faced the media for the first time since his shock move for Hargreaves just before the transfer deadline.
The England international was out of contract having endured an injury-hit spell with City's derby rivals Manchester United.
Hargreaves fitness
Hargreaves has not been named in City's Champions League squad but Mancini believes the former Bayern Munich midfielder is close to full fitness and could become a Premier League regular for City this season.
"It was a free transfer, he was without a team," explained the Blues boss.
"We needed a midfielder and we thought that this could be a good opportunity for us because Hargreaves was a fantastic player.
"He had a big problem in the last two years and I hope he can recover well to be an important player for us.
"After three games we've had two midfielders injured (De Jong and Barry), which is a big problem, but I think that Hargreaves can play in maybe two or three weeks.
"If he's fit in two weeks I think he can play always. He's 30 years old, he's young. He was very unlucky in the last two years but if he can recover well, I don't think he'll have a big problem."