Routledge set for Gunners test
Wayne Routledge has backed Swansea to break their duck in front of goal when they take on Arsenal at the Emirates.
Last Updated: 10/09/11 12:33pm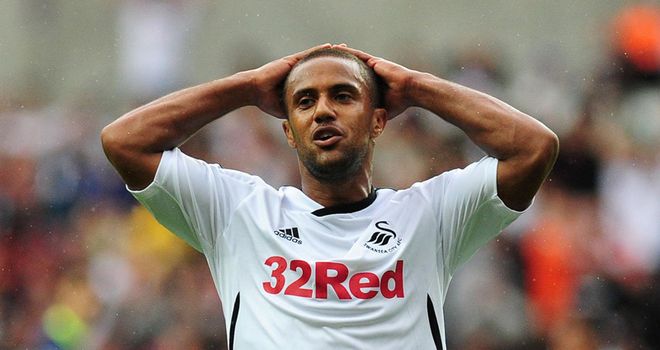 Wayne Routledge has backed Swansea to break their Premier League duck in front of goal when they take on Arsenal at the Emirates Stadium.
The 26-year-old has failed to hit the target himself with the club picking up just two points from their three league games to date.
The Welsh side are awaiting their first goal and their first win in the top flight this season while Routledge is awaiting his first Premier League goal after drawing a blank from a total of 102 appearances across seven clubs.
But the former Tottenham and Newcastle man has acknowledged that a goal or two against the Gunners, who are still smarting from their 8-2 humiliation at Manchester United before the international break, is a realistic target.
He said: "We are only three games in to the season, but as an attacking player you want to be in the other half creating and scoring, but it has still been an encouraging start.
"We have done a lot of good things, we have been good in possession and we have kept two clean sheets from our first three games, and for a newly-promoted side that's almost unheard of.
"We know we need to do a bit more in the final third. Of course it would be a nice achievement to get that first goal at the Emirates and it will be a greater achievement if we can get that first win."
Of his own record, he added: "It doesn't bother me. It's not a nice stat to have and I would like to get rid of it, but my game is about creating chances, although it is something I hopefully can improve on."
Tough
The winger is, however, expecting a tough game at the Emirates and believes Arsene Wenger's side will be looking to take out their frustrations against Brendan Rodgers' outfit.
"Whatever team they put out will make it a tough game for us," continued Routledge.
"If any side were to lose Nasri and Fabregas it would make a difference, but they have gone out and got in Benayoun and Arteta who are quality players, and it will be interesting to see how they fit in.
"Loads of things have been said about Arsenal but you can't criticise how they play.
"When you are a side who always look to play football you will always have chances, especially with the signings they have made, but we need to concentrate on what we do.
"Everyone has to be wary, but for most of us it's a nice challenge to have. You have to go out and play the best you can and see what happens."