Defeats no concern to Tamas
Gabriel Tamas insists West Brom's confidence has not been dented by their winless start to the season.
Last Updated: 10/09/11 2:14pm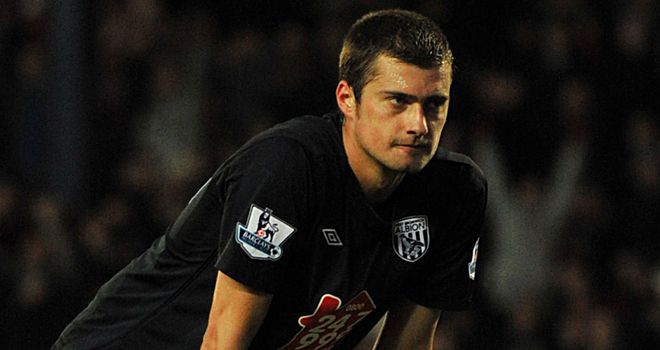 Defender Gabriel Tamas insists West Brom's confidence has not been dented by their winless start to the season.
The Baggies have lost their opening three Premier League games and visit newly-promoted Norwich on Sunday.
Despite the defeats, Tamas has taken heart from Albion's general performances against Manchester United, Chelsea and Stoke.
The Romanian international said: "The confidence is still good. We know we are a good team with good staff, a good coach and good players.
"We proved that last season and we will prove that again this season. No-one is panicking but we know we need that win.
"We believe in ourselves, we believe in our players. Three results have not changed that."
Tamas added: "We need a little bit of luck, I think. We are creating opportunities to score.
"Maybe we don't have that 'feeling' of a goal so far if you understand me. But, of course, we are going to get that moment.
Proven
"There's no team we cannot beat in this division. We have proved that.
"This is the Premier League. Manchester United beat Arsenal 8-2 but even they cannot go into their next game expecting to beat the next opponents.
"I was out on the pitch against Manchester United and Chelsea and I didn't feel the difference between us.
"I didn't see a big difference. All the games are the same and that's why it's the best league in the world."
Tamas also believes Albion have tightened up defensively after they had the second worst goals conceded record in the division last season behind relegated Blackpool.
He said: "I think we are defending much, much, much better. We stay in very good shape on the pitch. We each cover our zones very well.
"I can tell you this from the games, from the training, it's much better."
'Settled'
Meanwhile, Tamas was the subject of speculation linking him with a move to Lazio during the summer but he is happy with life at The Hawthorns.
"I'm very settled here," he said. "I'm still here and I like it here. I'm settled. I go to training with a smile on my face and not in many countries have I done that.
"I have been stressed at other clubs but I do not have any problems here. I train well, I live in the city where everything is close but at the same time it is very peaceful."