Mancini coy on Barca parallels
Manchester City manager Roberto Mancini was coy on the comparisons to Barcelona after demolishing Wigan.
Last Updated: 10/09/11 6:29pm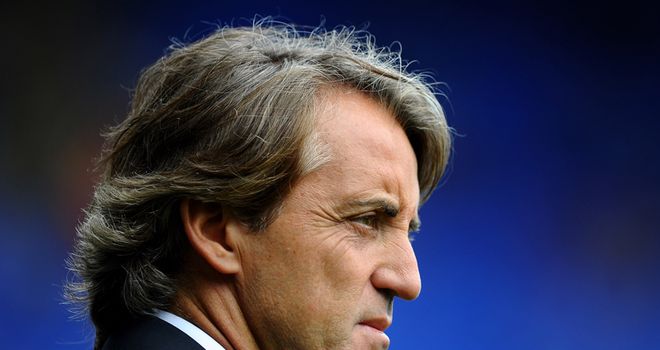 Manchester City manager Roberto Mancini was coy on the comparisons to Barcelona and instead demanded improvements after demolishing Wigan.
Sergio Aguero scored a hat-trick in the 3-0 win at the Etihad Stadium on Saturday to mean that Carlos Tevez's wretched penalty failure could even be forgotten.
City, who have now scored 15 goals in four Premier League matches, pulled Roberto Martinez's Wigan apart through the combination play of Aguero, Tevez and David Silva.
Post-match parallels were being made to European champions Barcelona, but when asked if his side were the English equivalent, Mancini only said: "Maybe".
The former Inter Milan boss, who has revamped City's style from the defensive tactics of last season, instead preferred to focus on a wastefulness in front of goal.
"I think we had about 15 chances in the first half and only scored one goal and this is a problem because every moment in a game can change," he said.
Praise
"Maybe the game was closed after the second goal, but next time we have to close the game in the first half.
"The whole team played very well, but we need to improve. We've started the season very well, but the season will be long and if we are to stay on top for a long time we need to improve."
Silva, though, did earn praise alongside Aguero, Yaya Toure and Samir Nasri, who made his home debut as a second-half substitute.
"Silva is a top, top player. Just like Aguero, and Yaya, and Nasri - for them, it is easy to play football," said Mancini.
"I enjoy it because I like when we play football very well like we did against Tottenham or today during this game.
"Sometimes you can play better than the other team and still lose the game, but it's important that we're playing football very well. At the end of the game though, anything can happen. Lose or win."