Grayson hails McCormack impact
Simon Grayson praised striker Ross McCormack after he gave Leeds a tension-relieving win over Crystal Palace at Elland Road.
Last Updated: 10/09/11 8:14pm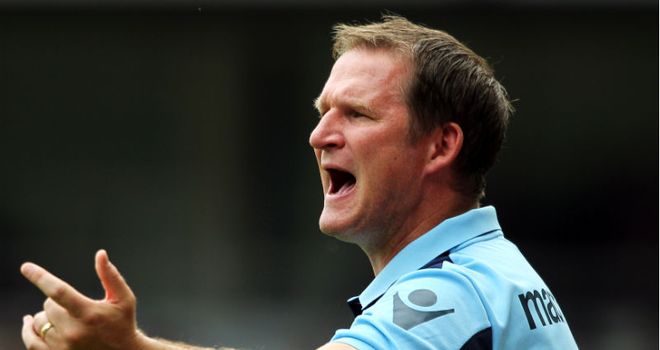 Simon Grayson praised striker Ross McCormack after he and Luciano Becchio combined to give Leeds a tension-relieving win over Crystal Palace at Elland Road.
Scotland international striker McCormack scored the first and last goals of an end-to-end game, with Becchio, back after a five-month injury lay-off, equalising in between times after Paddy McCarthy and Sean Scannell had put Palace in front.
McCormack's winner, his sixth of the season, came six minutes from time and earned his side a second win of a campaign after scoring just twice following a £300,000 move from Cardiff last summer.
Credit
And Grayson was quick to credit McCormack for his influence: "When we signed Ross I was excited because I knew what he was capable of doing, but for different circumstances he didn't get a run in the team.
"He looks fit, strong and you can see his confidence. I'm delighted with him, he's showing what we wanted.
"We didn't play very well today. The biggest confidence boost was that we were only 2-1 down in the game. We need to be better at not conceding goals and need to stop making fundamental errors.
"I've sat after a game when we've played better than we have today and not won. I know (Palace boss) Dougie Freedman will be disappointed because they probably deserved to win the game."
Grayson admitted he was also grateful for Becchio's impact after making his first appearance for the club since the 16th April draw with Watford, adding: "Luciano was never going to play much more than 25 to 30 minutes of football because he's only played 60 minutes in a reserve game.
"His arrival lifted the crowd and gave everybody a buzz. We had to play differently, we went with a longer ball, and him and Mikael Forsell caused problems.
"I'm delighted he's had an impact on the game. He's a long way off starting a game, but it's a great boost to have him back."
Disappointing
Meanwhile, Palace boss Dougie Freedman did not disagree with his opposite number's assessment.
He said: "It's a strange feeling because half of me is proud of the way we played and the way we took the game to them, and the other half is disappointed.
"We expect to win when we play like that. But we move on. We'll win more games than we lose when we play like that.
"We did not get the result but I will not change my philosophy on the way we play. Our defensive duties lack a little bit of concentration, but in the last five minutes we still created chances."