Free Agent
The next free agent to fall under our microscope is ex-Aberdeen and Darlington striker Tommy Wright
By Rob Parrish - Follow me on Twitter @skysportsrobp
Last Updated: 12/09/11 10:34am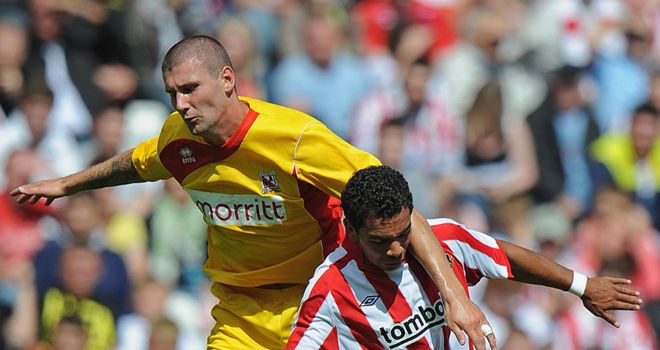 There are unlikely to be too many free agents out there whose last act on the field was helping their club to glory at Wembley, but Tommy Wright falls into that elite category. The former England Under-20 and U19 international helped Darlington lift the FA Trophy with victory over Mansfield in May before being released by the North East club on transfer deadline day. The powerful forward, who started his career with Leicester and earned a £100,000 move to Aberdeen in 2008 after impressing in his first spell with Darlo, is now on the look-out for a new side.
Were you surprised to leave Darlington after the season had already started? Did you expect to be part of the first-team plans?
To be honest, I wasn't really surprised, just disappointed. I sat down with the manager at the end of last season after Wembley and he basically told me I wouldn't be in his starting 11 this season and wouldn't stand in my way if I chose to leave in the summer, but I went away and got my head down and got fit and thought I could force my way back in! But when he pulled me in the office the day before deadline day, we mutually agreed it was best for both parties that I left to seek football elsewhere. I appreciated his honesty and wish the club all the best this season.
What were your highlights of your two stints with Darlington? The FA Trophy final must stand out?
On a personal note it was great to bow out at Wembley in my last appearance for the club and to lift the Trophy was something very special and one I'll never forget. I was disappointed with the amount of games I got last season - I only started nine games but scored four goals. I managed to finish the season on a bit of a high and started and finished the game at Wembley and on the day was unlucky not to score, which is every lad's dream. My first stint with Darlington was great, I scored goals and played every week and we came close to promotion through the play-offs. The fans have always been great to me and were the main reason I came back the second time round.
Is it worrying being an out of contract player in the current climate or has it become part and parcel of the modern game and something you have to accept?
To be honest I'm excited by it in a strange kind of way. I knew my time at Darlington was up anyway and it was only going to be another frustrating season in the stands or on the bench. So making the decision to leave gives me a chance of getting a game elsewhere. No footballer wants to be watching games and this is the first time in my career I've had to do it. I'm hoping a team will look at my CV and think I could do a job and give me that chance. My wife and I are expecting our first child on September 16th so a fresh start could do me the world of good.
Do you have an idea as to the standard you would like to play at? Football League, Blue Square Premier?
I'd love to get another chance in the Football League. My record in League One and League Two is good enough and I'm still young enough to fulfil the potential I showed as a teenager with Leicester City and in the England set-up, but in the modern game you can't rule any level out! I'll talk to anyone that is interested and take it from there.
Are you ready to slot straight into a new team having spent pre-season and the opening weeks of the campaign with the Quakers?
Yes, definitely. I've been in full-time football since I left school at 16 and although I've only been away from that for a week, I'm already starting to get bored! I've been at the gym every day keeping up my fitness but it's not the same. I love football and I can't wait to get back into it. I feel I've got a lot to offer and I'm hungry to succeed.
Are you thinking that you might have to go for a trial in order to get a full-time contract?
I think trials are the best chance I've got of getting back to play in the Football League and in the modern game that's normal. I know a few boys who are struggling to get a club and one that has left the game completely. There's lads taking month-to-month contracts - that's just the way football is and it's a way of proving yourself without much risk for the club. I've been lucky in my career where I've been handed two and three-year deals and all this is new to me, but I've got to start again and prove myself. A lot of people know I can do it and I'm keen to prove them all right.
Would you be prepared to relocate? Is that something you now have to take into consideration as a modern footballer?
I've relocated all over the country already in my career and even to Aberdeen, which felt like the other side of the world when I saw snow in October! That's just football, you have to go to clubs that want you and that is still the case. I just want a chance now to prove I can get back to scoring goals. My wife and family understand that relocating is part and parcel of football. I moved away from Leicester six years ago, all my family and friends are there but they know I have to do the best for my career and it's only a short one.
What do you feel you would offer prospective employers? What are your best attributes?
I've always been a 100 per cent player who isn't shy of putting himself about. I've scored goals at every club I've been at and, given regular football like I had in my first stint at Darlington, I proved I can score regularly. My starts to goals ratio is 1 in 3 and I still feel I could better that. The last couple of years have been frustrating for me personally, but I've played at all levels in England now and represented my country at Under-19 and U20 level. I haven't become a bad player overnight and I'll never stop believing in my ability.