Davies contacted Cleverley
Kevin Davies' wife insists the Bolton striker did speak to Man Utd midfielder Tom Cleverley causing his injury.
Last Updated: 12/09/11 12:14pm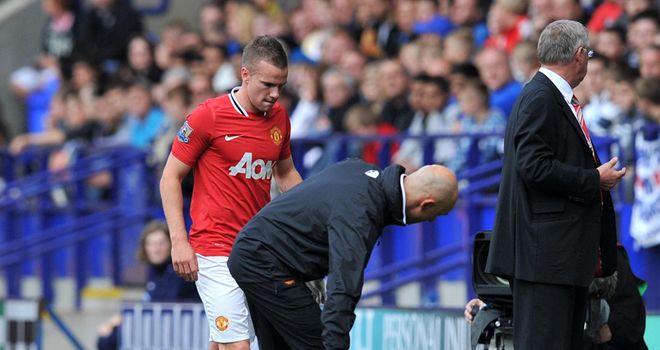 Kevin Davies' wife insists the Bolton striker did speak to Manchester United midfielder Tom Cleverley after the tackle which left the youngster with damaged ankle ligaments.
Cleverley faces around four weeks on the sidelines as a result of the incident in Saturday's Premier League clash at the Reebok Stadium.
It was initially feared the 22-year-old had broken a bone and could have been out for much longer.
Messages posted on a fake Tom Cleverley Facebook page on Saturday night claimed the United player was angry and Davies had not apologised.
United made clear this account was not genuine and Davies' wife, Emma, who herself received abusive messages via Twitter, said there had been contact.
Her tweet read: "For all the ill-informed haters... Kevin spoke to Tom Cleverly (sic) on the phone earlier. He would never intentionally hurt anyone."
Cleverley underwent a scan on Sunday which confirmed the injury was not as bad as first thought and he should again be available in November.
The youngster will miss the start of the UEFA Champions League group stages and a possible England debut in October's Euro 2012 qualifier against Montenegro.