Meireles - Reds broke promise
Raul Meireles has accused Liverpool of a broken promise and claimed that he was asked to submit a transfer request
Last Updated: 12/09/11 4:34pm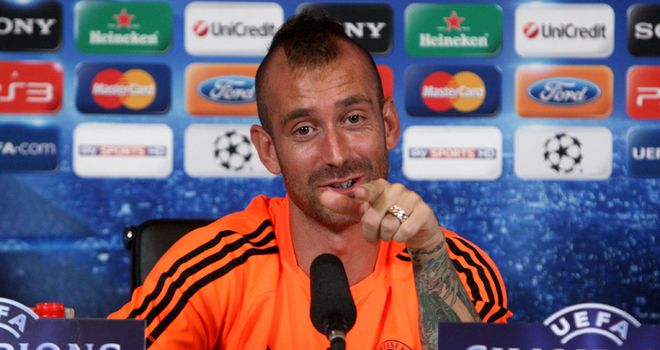 Raul Meireles has accused Liverpool of a broken promise and claimed that he was asked to submit a transfer request
Meireles made one of the latest moves on deadline day when he joined Chelsea for a reported £12million just before the cut-off point.
The 28-year-old revealed upon signing for Chelsea that he had never wanted to leave Anfield and that he would eventually explain why he had done so.
He has now attempted to set the record straight by revealing that he was asked to submit a transfer request once Liverpool had decided to sell him to the Blues.
Reports had suggested that Meireles was promised a 100 per cent pay rise at Liverpool if he impressed during what was his debut season.
Officially unveiled as a Stamford Bridge player on Monday afternoon, Meireles said: "All I have to say is that I had one promise at Liverpool which wasn't fulfilled.
"It's not the only thing to blame. But that's why the Liverpool fans are unsure why I left."
He added: "Liverpool asked me to hand in a transfer request, so that's normal."
Meireles admitted he was stunned to discover he had been made available for transfer.
"I was aware that Liverpool wanted to sell me in the summer, which was a bit surprising to me," said Meireles, who was reluctant to discuss his relationship with Reds boss Kenny Dalglish.
"There's no point touching this subject any more.
"I was a bit surprised, but now I'm just concentrating on my present and future, and that's with Chelsea."
Villas-Boas praise
Indeed, Meireles was delighted to have ended up at Stamford Bridge, saying: "When Chelsea showed interest, it was like a golden opportunity.
"I'm here now, it's a new adventure, and I want to do well here."
Meireles' move reunited him with Andre Villas-Boas, who he worked under during pre-season a year ago before joining Liverpool from Porto.
"I worked under Andre for one month at Porto, so I felt that there's the same mentality here as there was at Porto - the desire to win competitions and trophies. With Andre, we can do that," Meireles said ahead of Tuesday's UEFA Champions League Group E opener against Bayer Leverkusen.
"In one month, it was enough to see how he works and his desire to win things. So it wasn't hard to make the decision to come to Chelsea."