Ballack still haunted
Michael Ballack has admitted he will always feel the pain of Chelsea's Champions League final loss to Manchester United.
Last Updated: 12/09/11 7:32pm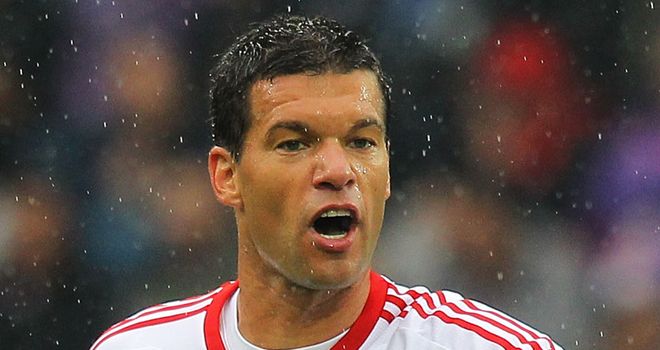 Michael Ballack has admitted he will always feel the pain of Chelsea's UEFA Champions League final loss to Manchester United, but he is determined to inflict more European misery on the Blues when he lines up for Bayer Leverkusen on Tuesday night.
Ballack is set to play at Stamford Bridge for the first time since leaving the club just over a year ago when Leverkusen begin their Group E campaign against Andre Villas-Boas' side.
The 34-year-old has the unique honour of being the only man to play in the biggest game in both clubs' history, inspiring Leverkusen to the 2002 Champions League final before starting for Chelsea in the 2008 showpiece.
Unfortunately, the midfielder ended up on the losing side on both occasions, but it was perhaps the penalty shoot-out heartache in Moscow that was the more difficult defeat to take, with Ballack on Monday saying: "It will haunt all of us for ever."
Former Germany captain Ballack, who turns 35 this month, will receive a special presentation from Chelsea in recognition of his four years' service before kick-off on Tuesday night.
He said on Monday: "The presentation is a very nice gesture and it will be a very emotional moment for me tomorrow.
"There are still a few players there and some who left in the meantime who I am still friends with and whom I am still in touch with, and also a few of the staff.
Challenge
"When I moved to Chelsea, it was a big, big challenge and experience for me at the time to play with so many good players.
"If I look back, I had a very good time. I feel always welcomed by the fans and the club. They treat me always very well and we had success.
"We missed a few chances, but we had some successes and I will remember this always and it is a big part of my career."
Bundesliga runners-up Leverkusen will be underdogs on Tuesday but Ballack has warned that his side are capable of causing an upset.
"They are the favourites in our group but in the opening match in London there will be no pressure on us, so we may spring a surprise," he said.
"We will have our chances. They have great individual players but, as a team, it is maybe not the worst thing to play them now because the season has just started."